FHA Loan Limits By State For 2022
Click on Your State Below Check Your Maximum FHA Loan Limits By State For 2022
The National Loan Limits for 2022
| | |
| --- | --- |
| Conforming Limits | $647,200 |
| Loan Limit 'Floor' | $420,680 |
| Loan Limits 'Ceiling' | $970,800 |
| HECM maximum claim amount | $970,800 |
How Loan FHA Loan Limits in Each State are Calculated in 2022?
The federal government establishes annual FHA Max loan limits each year based on local home price trends and a few additional factors. There's a maximum amount you can qualify for with each federal loan program before it's considered a jumbo loan and the Department of Housing and Urban Development (HUD) has raised the eligibility criteria for most counties in the United States. This is how to calculate the new FHA loan limits for 2022
Determine "Anchor" Loan Amount

Before calculating the 2022 FHA floor and ceiling loan limits, HUD has determined what is considered an anchor loan amount. HUD/FHA uses the 2022 conforming loan limit (CLLs) for mortgages to be acquired by Fannie Mae and Freddie Mac in 2022 set by the FHFA (not to be confused with FHA). The amount of the loan for an anchor in 2022 is $647,200 for single-family and multifamily home loans for homeowners.

Calculate 2022 Floor Loan Amount

HUD calculates the FHA's 2022 Floor Loan Amount based on two factors. This is the lowest amount that any MSA in the country can have as their Maximum FHA loan amount for 2022. These two elements are necessary for this project to be successful.

1. Anchor Loan Amount: $647,200
2. Factor: 65%

The FHA Floor Loan Amount equals the 65% rate multiplied by the anchor loan amount
$647,200X 65% = $420,680 – FHA 2022 Floor Loan Amount

Calculate 2022 FHA Ceiling Loan Amount

HUD determines the FHA ceiling loan amount by using an initial loan amount and the ceiling amount. This is the highest amount that any MSA can have as their Maximum FHA Loan amount for 2022 (except for high-cost areas).

1. Anchor Loan Amount: $647,200
2. Factor: 150%

The FHA Ceiling Loan Amount equals the 150% rate multiplied by the anchor loan amount $647,200 = $970,800 – FHA 2022 Ceiling Loan Amount
When the framework is set HUD has both the 2022 FHA Floor and Ceiling loan limits established. Each MSA then receives its annual FHA Loan Maximum based on FHA floor and ceiling limits and their local average home price.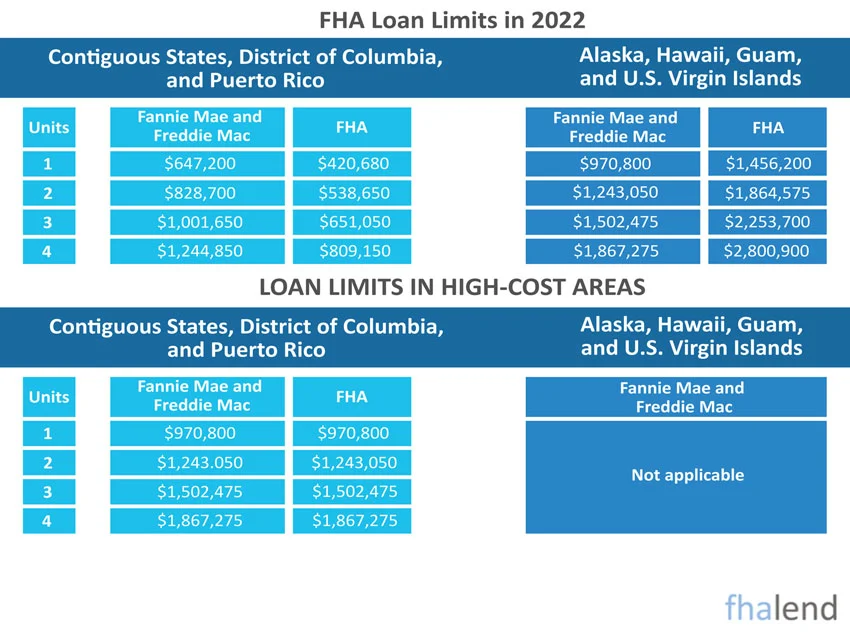 Finalizing an MSA's 2022 FHA Loan Max
Each state's MSA's 2022 FHA Loan Limits come from 3 basic criteria. They are as follows:
Area's average home price
FHA Floor Loan Limit
FHA Ceiling Loan Limit
When an MSA's average home price falls within the FHA Floor and Ceiling, that MSA's average home price becomes its 2022 FHA Loan Max. However, when an MSA's average home price falls outside of either the FHA Floor or Ceiling, then the appropriate limit becomes that area's 2022 FHA max loan amount.
For example, areas/MSA's with average home prices below $420,680 take the FHA Max Loan amount at $420,680. In an area where the average home price exceeds $970,800 FHA Ceiling (except those noted below) take on a loan amount of $970,800 as their 2022 FHA Max Loan amount.
The FHA takes two key factors into account while setting lending limits: the location you reside in and the number of units you intend to purchase. The "floor" in a low-cost region will be lower than that in a high-cost area, and vice versa.
The FHA identifies high-cost locations based on the average income level, property price, and market demand. As a result, houses in heavily inhabited cities like Los Angeles will have a higher ceiling than rural or suburban areas.
Lending restrictions can differ based on the number of units you're acquiring. A 2-unit, 3-unit, or 4-unit property will have a greater lending limit than a 1-unit home, for example.
Why Do FHA Loan Limits Matter?
FHA loan has less strict requirements and guidelines because FHA insures the loan and lenders are more protected in case of a defaulting on the FHA mortgage loan
FHA mortgage interest rate might be slightly higher than conventional loans but still remain competitive.
With a 3,5% downpayment, you can get the FHA loan if your credit score is at 580 or higher. You need to put down 10% when your credit score is low and between 500-579.
Having bankruptcies or foreclosures might not be an issue and you can still be eligible for the FHA mortgage loan.
FHA Loan Limits Table for 2022 in Every State
Special FHA Loan Limit Exception Areas in 2022
Alaska, Hawaii, the Virgin Islands, and Guam have their own special and higher 2022 FHA Loan limits.
"Mortgage limits for the special exception areas of AK, HI, GU and VI are adjusted by FHA to account for higher costs of construction"

HUD Mortgagee Letter 2021-28 (page 3)
On November 30th, on (Tuesday) the Department of Housing and Urban Development (HUD) announced new loan limits for the calendar year 2022 a special exception to the Federal Housing Administration's (FHA) loan limit. This means that FHA-insured mortgages will be available for up to $679,650 in 2022 in high-cost areas, an increase from the current limit of $647,200.
This is great news for homebuyers as it will help to make more affordable homes available in areas where prices are high. HUD Secretary Marcia Fudge said, "UD's mission is to create strong, sustainable, inclusive communities and quality affordable homes for all.."
The increase in the loan limit is especially beneficial to those looking for homes in high-cost areas such as California, New York, and Washington D.C. In these areas, the previous limit often meant that only more expensive homes were within reach of buyers. 2022 FHA loan limits are effective for all loans with FHA case numbers assigned on or after January 1, 2022.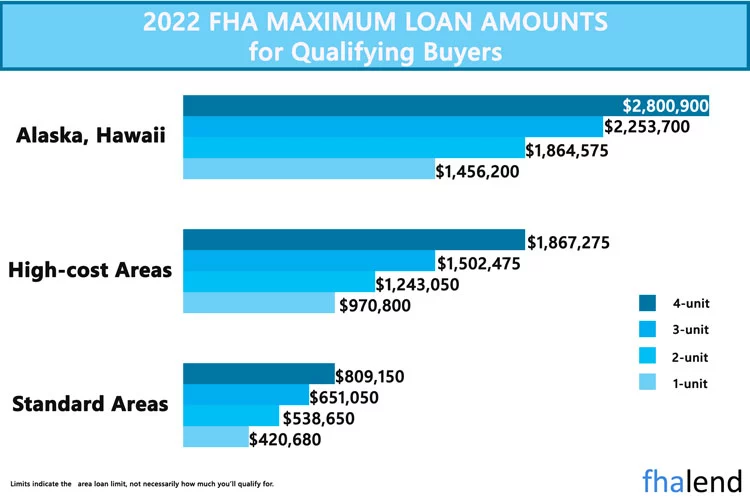 FHA 203k Rehab Loan Limits
When it comes to getting a mortgage for a fixer-upper or financing the renovation of an existing property, one of the most important considerations is the rehab loan limits set by lenders. These limits vary from state to state and can make all the difference in terms of how much you can afford when it comes to buying or renovating your home.
The 203k loan limit is the maximum amount that a borrower can receive from the Federal Housing Administration (FHA) for a loan used to purchase or refinance a home. The 203k loan type has its own limit will increase to $ 726,525 in 2022 from $ 655,500 in 2021.
| | 2-Unit | 3-Unit | 4-Unit |
| --- | --- | --- | --- |
| Low-Cost Area | $538,650 | $651,050 | $809,150 |
| Mid-Range Area | $538,651 to $1,243,049 | $651,051 to $1,502,474 | $1,502,475 |
| High-Cost Area | $1,243,050 | $809,151 to $1,867,274 | $1,867,275 |
| AK, HI, Guam, & Virgin Islands | $1,864,575 | $2,253,700 | $2,800,900 |
FHA Loan Limits For Reverse Mortgage
In addition to FHA loans, the FHA is in charge of conforming home equity conversions, commonly known as reverse mortgages. Reverse mortgages are available nationally and have a static limit. The FHA increased the loan limits for reverse mortgages from $822,375 in 2021 to $970,800 in 2022.
FHA Multifamily Maximum Loan Amounts in High-Cost Areas
If you're looking to finance a multifamily property with FHA loan in a high-cost area, it's important to know that you'll need a larger down payment and a higher credit score to qualify for the loan.
If you are looking to buy or refinance a home in one of the many FHA high-cost areas across the country, here are some tips to help you get started:
Do your research and work with an experienced lender who is familiar with FHA loans in your area. This will help ensure that you get all the benefits available to you and can make the process as smooth as possible.
Consider working with a real estate agent who can assist you in finding homes on the market that meet your needs and budget.
Take advantage of government or non-profit programs that provide assistance with down payments, closing costs, and other expenses associated with buying a home in a high-cost area.