Conforming Loan Limits on Conventional Loans For 2023
FHFA Increases Conforming Loan Limits On Conventional Loans to $647,200 on single-family homes due to the booming housing market. After quarter three of each year, the Federal Housing Finance Agency or FHFA releases their announcement for the following year's loan limits. These loan limits are set for conventional mortgages and are considered conforming loan limits.
In this blog, we will detail the increases in conforming loan limits for 2023. We will details what you need to know from the FHFA 2023 announcement. We will also discuss how to apply for a conventional or conforming loan with FHA Lend Mortgage. This increase is a good thing for conventional borrowers on both purchase and refinances transactions
In this article (Skip to…)
Conforming Loan Limits Based On Average Costs Of Homes From the Previous Year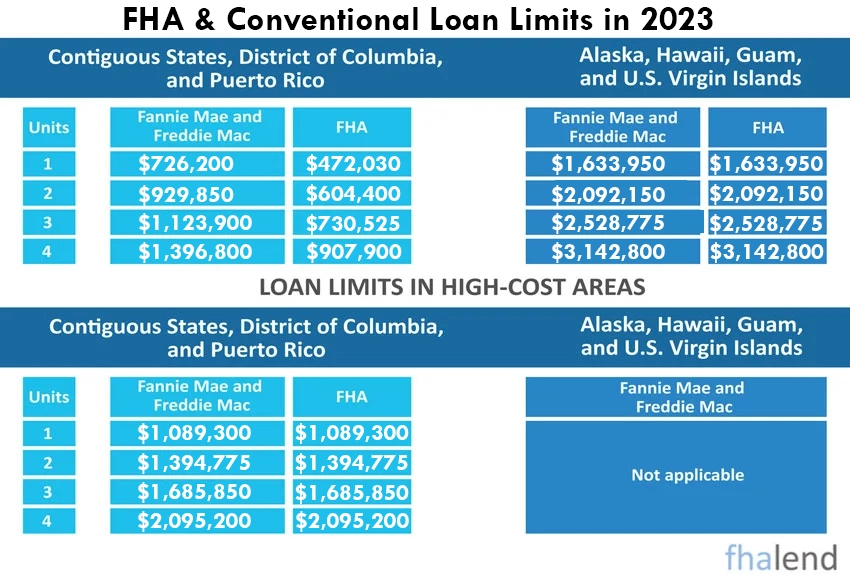 Every year the baseline loan amount requirements are adjusted for FANNIE MAE and FREDDIE MAC based on the change of the US housing market and the average cost of homes. The Housing and Economic Recovery Act or HERA requires the Federal Housing Finance Agency to publish an annual Home Price Index or HPI.
According to the Home Price Index published about two weeks ago, the average home price increased 7.42%. Therefore, the baseline loan amounts increased roughly the same amount. This year for a single-family home, the maximum conforming loan limit will be $647,200. This is a substantial increase. This amount will go into effect on January 1, 2022. Conventional mortgage applications started today will be able to use the new loan amount because they will not close until the calendar year of 2022.
Conforming Loan Limits In High-Cost Areas
High-cost areas. As we all know, house values vary dramatically across our nation. Areas like Denver, Colorado, and San Francisco, California are vastly different than rural areas throughout states such as Texas and Illinois. If you live in an area where the average home price index is 115% higher than the baseline home price index, these areas are considered "high-cost" regions. In a high-cost region, the conforming loan limit is increased. There is a ceiling loan limit of 150% of the baseline loan limit ($647,200).
The maximum (ceiling) high-cost conforming loan limit will be $970,800 in the highest-cost areas. It is also important to understand there are provisions in the HERA Act that can provide different limits for Hawaii, Alaska, Guam, and the U.S. Virgin Islands. Hawaii, Alaska, Guam, and the U.S. Virgin Islands are already set to $970,800 for 2022. In years past, these areas have been able to go higher than the ceiling loan limit.
Conforming Loan Limits On Two To Four Unit Multi-Family Homes
Multifamily homes – The loan limit increases also trickle down to multifamily homes. Multifamily homes will have a higher loan limit compared to single-family homes. For 2022, the loan limit for a two-unit property will be $828,700, the loan limit for a three-unit property will be $1,001,650 and the base loan limit for a four-unit property will be $1,244,850. In the ceiling loan areas such as Eagle County Colorado, the loan limit for a two-unit property is $1,243,050, a three-year property loan limit is $1,502,475 and the loan limit for a four-unit property is $1,867,275. 2022 could be a great time to buy an investment property.
A multiunit property can be a long-term asset and create positive passive income. We are experts in investment property lending and encourage you to reach out to FHA Lend Mortgage today for questions surrounding our investment property mortgage products. We have a few loan programs that many lenders do not offer for investment opportunities.
Conforming Loan Limits On Cash-Out Refinance Mortgage Transactions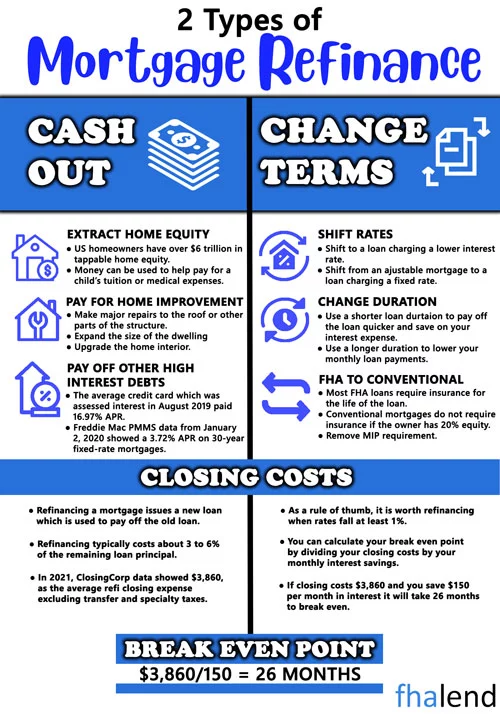 Cash-out refinance transactions. With historically low-interest rates brought on by the COVID-19 coronavirus outbreak, we have seen an increase in cash-out refinance transactions. Based on the value of your home, this increase in the loan amount may help you secure additional cash-out funds.
Remember, conventional mortgage loans are capped at 80% loan to value-for cash-out transactions. So, if your home will appraise for $785,310 or higher, you can cash out to the max conforming loan limit. Many borrowers are consolidating consumer debts with a cash-out refinance. Rates are very low and mortgage interest is tax-deductible, reach out to our team today for more information.
Keeping Up With A Booming Housing Market And Historic Low Mortgage Rates
From reading the blog above, you can see there was a substantial increase in the conforming loan limit. This will help thousands of Americans stay out of the jumbo mortgage lending world. Applying for a conforming loan with FHA Lend Mortgage is simple. First, you will call Mike Gracz on 630-659-7644. You and Mike will have a discussion on your mortgage goals and qualifications. After you and Mike speak, a licensed loan officer will email you an application link. You will fill out an online mortgage application. This application will give your loan officer permission to verify your credit scores.
Documents Required To Start The Mortgage Qualification And Approval Process
After the loan officer has your credit report, you will need to send in the following documentation:
Last 60 Days Bank Statements – to source down payment
Last 30 Days Pay Stubs
Last Two Years W2'S
Last Two Years Tax Returns (not always needed)
Driver's License
Divorce decree, bankruptcy paperwork, foreclosure paperwork, short sale paperwork (if any of these documents are applicable to the borrower)
The mortgage process does not have to be stressful. The borrower, the loan officer, and the mortgage processor will work as a team and streamline the process to avoid stress and reach the common goal of closing the loan on time.
Qualification And Pre-Approval Process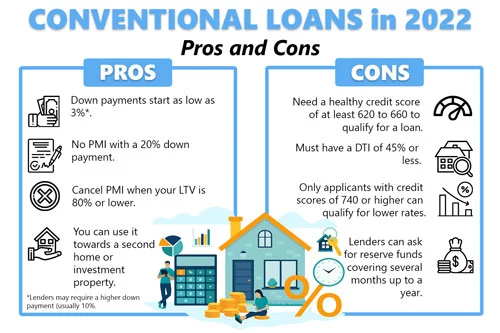 You and your loan officer will go over your credit report in detail to make sure all items reported are accurate.
Assuming your credit is in good standing, your loan officer will reverse engineer your income and asset documentation to see what you qualify for
We are trained experts in conventional mortgage lending and if there are some minor things, we can do to increase your qualifications, we will go over them with you at this time
Based on the information you provide; a preapproval letter will be sent to you
If for some reason you do not qualify for a conventional mortgage today, your licensed loan officer will come up with a customized financial plan to have you qualify as soon as possible
Buying a home is a long-term decision and we want to make sure you do not settle for anything less than your dream home.
When The FHFA Increases Conforming Loan Limits Take Effect
The increased loan amounts are already in effect. You can apply for a conventional mortgage of up to $647,200 starting today. The Federal Housing Finance Agency will continue to update the home price index annually. We have not seen a decrease in the baseline loan limit in many years. We have seen steady growth in the housing market since the real estate crash of 2008. It is yet to be seen if there will be another slew of foreclosures. All experts predict they will occur due to the COVID-19 coronavirus outbreak.
FHA Lend Mortgage Has No Lender Overlays On FHA Loans
As part of the CARES ACT, Americans were allowed to put their mortgage payments in forbearance. However, the forbearance timeframe is rapidly coming to an end. Many experts predict there will be a small collapse in the housing market due to Americans not being able to make their housing payments. It is a slippery slope when renters cannot pay their landlords and then the landlord cannot pay their mortgages. We hope the economy recovers as soon as possible and we can get back to normal life. Even with the slew of foreclosures, we do not think we will see a dip in conventional loan limits for 2023.
Qualifying For A Mortgage With A Lender With No Lender Overlays On Government And Conforming Loans

FHA Lend Mortgage is able to lend on conventional guidelines based directly on Fannie Mae and Freddie Mac standards. We do not have additional LENDER OVERLAYS on our conventional mortgage products. This allows us to help more clients compared to large banks and other lenders. Many lenders have added additional qualifications to their conventional mortgage products, especially during the COVID-19 coronavirus outbreak. We are available to help seven days a week and even in the evenings. Our team is dedicated to helping you and your family achieve homeownership or by your next home.
Conforming Loan Limits Increasing For Six Years In A Row Due To Rising Home Prices: Get Qualified Today
There are many reasons to choose us as your mortgage professionals. The team at FHA Lend Mortgage are experts and stay up to date on mortgage guidelines. These guidelines change frequently, and it is important to select a lender who knows what they are doing. Our reviews and testimonials speak for themselves. In today's mortgage climate, many lenders and investors have increased their qualifications. Obtaining a mortgage is a difficult task as it is. Our highly skilled loan officers will help you achieve homeownership as soon as possible. Please give us a call today to start the mortgage process.