FHA Inspection Guidelines and Requirements
If you're planning to buy or sell your home, the FHA inspection of the property will be part of the process. People who are buying a home with an FHA loan will need to be prepared for the fact that your lender will require an FHA inspection of the property. If you are buying we can help you to obtain an FHA loan with very attractive rates and we are licensed in 48 states. Please submit this form to get on a call with one of our senior loan officers.
For sellers who are selling their property and on a buyer's side the FHA inspection is required, we can help you to buy another property using a Conventional, NON-Qm, or investment loan. Just click the below button the get connected with one of our associates,
An FHA inspection is an important part of the home-buying process. By understanding the guidelines and what to expect, you can help make sure that the inspection goes smoothly and that any potential problems are identified early on. With a little preparation, you can help ensure that your FHA loan process is as smooth as possible.
In this article (Skip to…)
HUD Guidelines on FHA Inspection
As you may know, the FHA guidelines are quite strict when it comes to the condition of a property. In order to be approved for an FHA loan, a property must meet certain standards related to its overall condition. This is where an FHA inspection comes in. An FHA inspection is conducted by a HUD-approved certified inspector and is meant to assess the condition of the property.
The inspector will look for any major repairs or problems that could affect the safety of the home. They will also make sure that the home meets all of the minimum requirements set forth by the FHA. One of the main differences between an FHA inspection and a standard home inspection is that an FHA inspector will also check for things like lead paint, mold, and asbestos.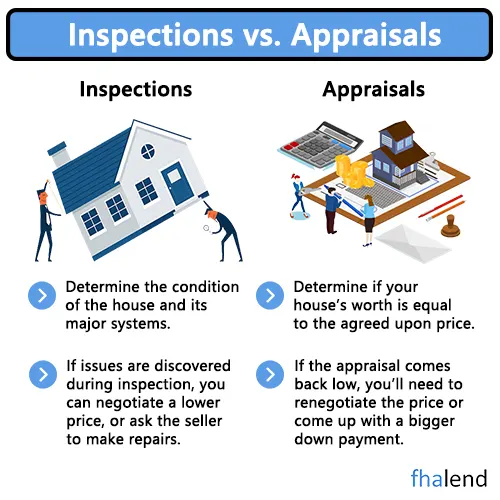 If these materials are present in the home, they must be remediated before the loan can be approved. Another key difference is that an FHA inspection must be conducted by a certified inspector. This means that you'll need to find an inspector who is specifically certified to conduct these types of inspections. You can typically find a list of certified inspectors on the FHA's website.
Overall, an FHA inspection is a bit more thorough than a standard home inspection. However, it is still important to remember that this is only one part of the loan approval process. The FHA also requires that borrowers meet certain income and credit requirements. So, even if your home passes the inspection with flying colors, you may not be approved for the loan if you don't meet these other criteria.
How To Pass FHA Inspection
In general, most lenders will require a home inspection for properties being purchased with a mortgage loan. This helps to ensure that the property meets minimum standards for safety and habitability. FHA loans are a type of mortgage loan that is insured by the Federal Housing Administration (FHA). The FHA has its own set of requirements for home inspections, which are outlined in HUD FHA Property Inspection Guidelines.
The handbook states that properties purchased with an FHA loan must be inspected by a licensed professional inspector. The inspector must be approved by the FHA to perform inspections on behalf of the lender. Inspectors must also follow specific guidelines when conducting an inspection, including assessing the property's structure, systems, and components.
Some of the things that inspectors will look for include:
evidence of water damage or leaks
cracks in the foundation or walls
evidence of pests or infestation
electrical, plumbing, and HVAC systems
doors and windows
In addition to a general home inspection, the FHA also requires a separate appraisal of the property. The appraisal helps to ensure that the property is worth the loan amount being requested. Appraisals For FHA loans are typically performed by licensed appraisers who have experience in assessing homes. If you're thinking of purchasing a home with an FHA loan, it's important to be aware of the requirements for home inspections and appraisals. Working with a qualified inspector and appraiser can help to ensure that your home purchase goes smoothly.
FHA Home Inspection Process
The FHA home inspection process is important to understand as a first-time home buyer. The Federal Housing Administration (FHA) requires all homes they insure be inspected by a professional inspector. This protects the buyer from purchasing a home with hidden defects that could end up costing them thousands of dollars in repairs.
As a general overview, the FHA home inspection process includes a visual examination of the interior and exterior of the home. The inspector will look for any safety hazards, structural damage, and any other potential problems with the property. They will also take note of any necessary repairs that should be made before the home can be sold.
When The FHA Inspection is Ordered?
Your FHA home loan needs to be first conditionally approved, your credit will be pulled and your documents checked by an underwriter. After that, you are ready to get an appraisal and inspection ordered by a mortgage processor.
How Long Do I Have to Wait For an FHA Inspection?
Most lenders or mortgage brokers have few inspectors ready to get the FHA inspection ordered. After your mortgage processor orders the inspections, the HUD-approved inspector will come to inspect the property within a few days (1-3 days). It will take him from few hours to even a whole day (depends how big is the property and how many units). It takes 1-3 days to prepare the inspection report in PDF. So the total safe number for the inspection from start to finish would be 5 business days.
There is a way to speed it up by paying more and putting this inspection a priority for the inspector to meet the specific closing date.
If you are considering purchasing a home that is insured by the FHA, it is important to have it inspected by a professional inspector before making an offer. This will ensure that you are aware of any potential problems with the property and can make an informed decision about whether or not to purchase it.
HUD Inspection Checklist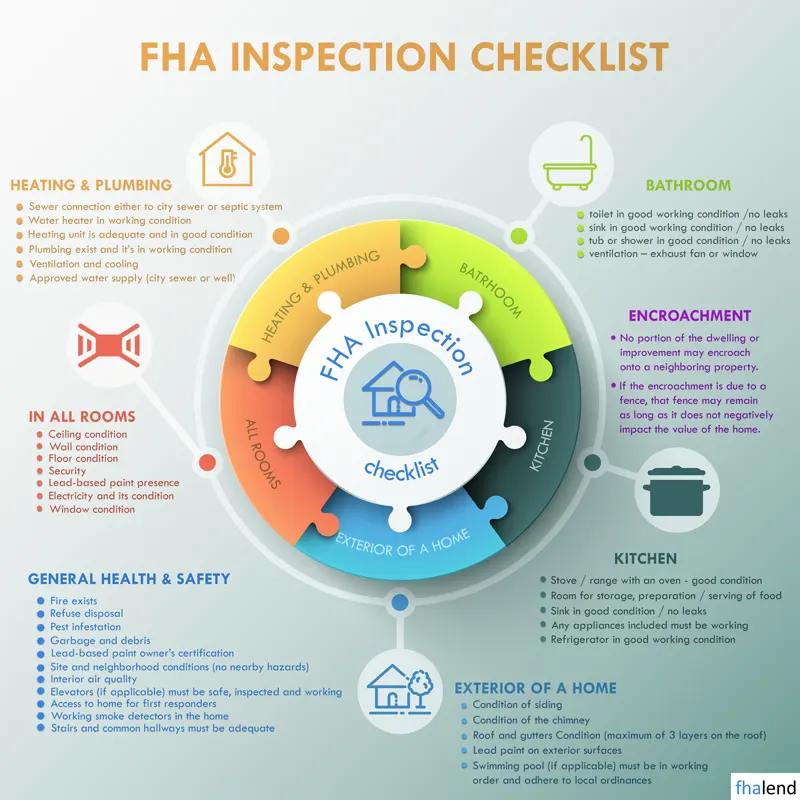 If you are planning to finance a property with an FHA loan, be sure to have it inspected by a qualified inspector before making an offer. With a little bit of preparation, you can be confident that your new home will meet all the necessary requirements. Below is a list of things the inspector will check and what to expect during an FHA Inspection:
Health and Safety Hazards
handrails for stairs where 4 or more raisers are present
checking for Pests, Mold, and asbestos
Smoking & carbon monoxide detectors must be working and tested
Pests, Fire Exists
Refuse Disposal
Pest Infestation
Garbage and debris
Lead-based paint owner's certification
Interior Air Quality
Elevators must be safe, inspected, and in working condition
Access to home for first responders
plumbing fixtures
heating and cooling system
proper functioning of outlets
Heating & Plumbing
Sewer connection either to city or sewer or septic system
The water heater is in working condition
Heating units are adequate and in good condition
Plumbing exists and it's In working condition
Ventilation and cooling
Approved water supply (city sewer or well)
Kitchen
Stove / Range with an oven – good condition
Room for storage, preparation, and serving of food
Sink in good condition with no leaks
Any appliances included must be working
Refrigerator in good working condition
Bathroom
Toilet in good condition
sink in good working condition & no leaks
tub or shower in good condition & with no leaks
ventilation – exhaust fan or window
All Rooms
Ceiling condition
Wall condition
Floor condition
Security
Lead-based paint presence
Electricity and its condition
Window condition
The exterior of a Home
Condition Of siding
Condition of the chimney
Roof and gutters condition (max 3 layers of shingles)
Lead-based paint on exterior
The swimming pool (if exist) must be in working condition and adhere to local ordinances
Encroachment
A portion of property or improvement cannot encroach onto a neighboring property
If there is a fence, it can encroach on the property as long as it doesn't affect the property value
How to Prepare Home For FHA Inspection
If you're getting ready to buy a home, one of the things you'll need to do is get it inspected by an FHA-approved appraiser. This process is designed to protect buyers from purchasing a home that doesn't meet minimum safety standards set by the Federal Housing Administration. Here's what you need to know about getting your home ready for an FHA inspection. One of the most important things you can do to prepare for an FHA inspection is to make sure all potential safety hazards are addressed.
This includes repairing any broken windows, fixing any loose railings or stairs, and ensuring that all electrical outlets are properly covered. In addition, you'll want to make sure there's no water damage or mold present in the home. If you have any pets, be sure to keep them away from the inspector during the inspection process. Once you've addressed all potential safety hazards, you'll need to provide the inspector with a list of any recent repairs or renovations that have been made to the home.
This is important because the FHA will want to know if any work has been done that could affect the home's value or safety. Be sure to include receipts for any work that has been done, as well as any permits that were required for the work.
How Much Does an FHA Inspection Cost?
The cost of an FHA inspection varies depending on the size and location of the home, but it typically ranges from $350 to $600. An FHA inspection can provide peace of mind to a home buyer that the home they are considering is safe and structurally sound. In addition, an FHA inspection can identify potential problems that could lead to future repairs or maintenance costs.
Exceptions to the FHA Inspection
There are some exceptions to the FHA inspection requirement. If the home is being sold "as is," or it's a short sale the inspection may not be required. Additionally, if the home is being sold by the FHA or a government agency, an inspection may not be necessary. Even if an inspection is not required, it's still a good idea to get one. An inspection can help you identify any potential problems with the home before you purchase it. This can save you money and hassle down the road.
The bottom line is that the FHA inspection requirement is in place to help protect both lenders and borrowers. However, there are some exceptions to the rule. If you're thinking about purchasing a home, be sure to ask your lender or loan officer about the requirements. And even if an inspection isn't required, it's still a good idea to get one.
What Happens If Repairs Are Needed After The FHA Inspection
So what happens if repairs are needed after the FHA inspection? The buyer is responsible for completing all required repairs before the loan can be approved and closing can occur. The buyer can choose to complete the repairs themselves or hire a contractor to do the work.
If the buyer chooses to hire a contractor, they must provide the lender with a detailed estimate of the repair costs. The buyer is also responsible for ensuring that all repairs are made in a timely manner. If the repairs are not completed within the specified time frame, the loan may be denied.