Buying House For Parents With Family Opportunity Mortgage
If your elderly parents wish to move into a new home but are unable to do so on their own, you may be able to assist them through a Family Opportunity Mortgage. The Family Opportunity Mortgage program from Fannie Mae makes it simpler for kids to assist their parents buy or refinance a house. Here's a peek at the loan, including what it is, how to get one, and other alternatives if it isn't suitable. The Family Opportunity Mortgage makes it easier for children to help their parents buy or refinance a house.
In this article (Skip to…)
What is a Family Opportunity Mortgage, and How Does it work?
On the property, you won't reside full-time, and mortgage interest rates and down payment requirements are usually higher. Even though it won't be your primary property, the Family Opportunity Mortgage permits you to secure a mortgage for your aging parents or disabled adult children as if it were. As long as they meet specific standards, this loan makes it considerably more accessible for children to secure a mortgage for their parents' house.
Fannie Mae, the nation's largest mortgage agency, has a little-known provision that allows you to buy a property for a loved one as if you were going to live there. Even though Fannie Mae does not have an official name for the program, it has been known as the Family Opportunity Mortgage.
To buy a home that will not be your primary residence, you must pay higher interest rates and make a significant down payment under standard financing guidelines. Lending on a "non-owner-occupied" property is a dangerous proposition.
Fannie Mae Family Opportunity Mortgage Guidelines for 2022
If your elderly parents want to move into a new home but can't afford it, you may be able to assist them through a loan known as the Family Opportunity Mortgage. This allows you to place your loved one in a safe, affordable home that you own. Here's the loan, how to get one, and what you can do if it's not right for you.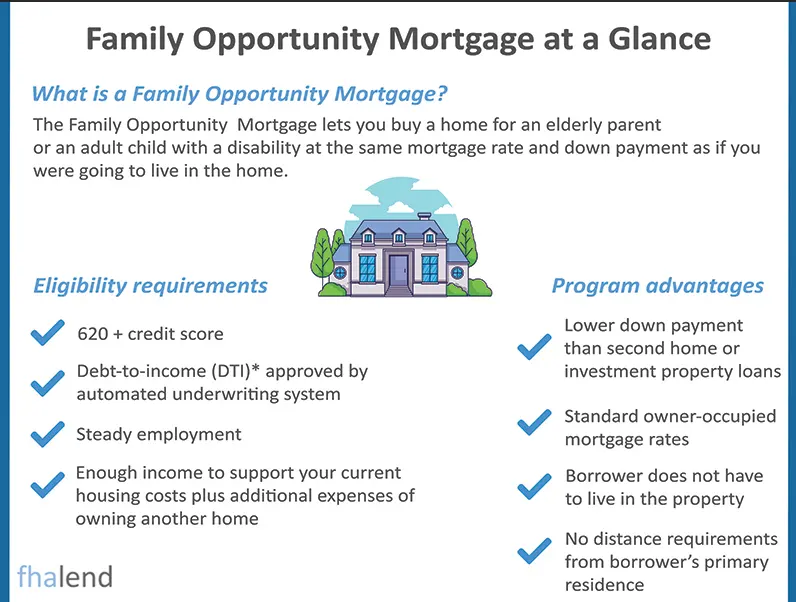 What Type Of Properties I Can Finance With Family Opportunity Mortgage?
No timeshare or another type of investment property.
The only type of housing allowed is single-family dwellings.
The primary individual in control of the property must be the intended borrower.
It must be possible for you to live in it all year round.
The owner of the property may not consent to a management firm taking control or occupancy of the property.
Who is Eligible For Family Opportunity Mortgage?
These are the minimum standards that all adults must meet in order to purchase a property for their elderly parents when qualifying for the family opportunity mortgage program from Fennie Mae.
Only available for seniors who are unable to work, or have low-income jobs and cannot get financing themselves.
The elderly couple needs to live in the house and it will be treated as a primary residence.
There are no distance requirements from the children's residence, it can be located in a different state or county.
If an elderly couple is 65 or more years old, the child will be the borrower and will be responsible to pay the loan back.
A child can own a primary residence when applying for the family opportunity mortgage for his or her parents
Can I Qualify for a Family Opportunity Mortgage If I'm Disabled?
The majority of disabled individuals who live in the United States do not have adequate resources to independently enjoy life. Parents may use these standards as a guide for deciding whether or not to offer their disabled, adult kid a home. Many people with disabilities work and contribute to society in important ways, although their income is typically low and does not allow them to purchase
People who want to buy a house for their grown, disabled kids are in the same position as elderly parents, according to the Home Buying Guide. Even if their child will be the primary inhabitant, the parents will be deemed the main borrower and owner of the property.
A wheelchair-accessible house is one that allows a disabled youngster to live independently and gives the family and parents peace of mind knowing their kid is safe. Finally, these instructions are only for the children of borrowers. They can't be used on any sort of asset or vacation property.
How much Downpayment do I Need For Family Opportunity Mortgage?
The first big savings for borrowers are obtained with a down payment. While a loan for an investment property generally demands between 10% and 20% of the purchase price, these requirements only call for a 5% down payment. For example, if you bought a home for $355,000 with a 20% down payment, the difference between that and a 5% down payment is $53,250. For most people, it's the difference between renting a place for their family or buying one for them.
When you combine the low down payment of the loan with the interest rates offered by Fannie Mae for conventional loans, it is clear to see that this type of financing can save the borrower a lot of money over the life of the loan.
Family Opportunity Mortgage For Students Requirements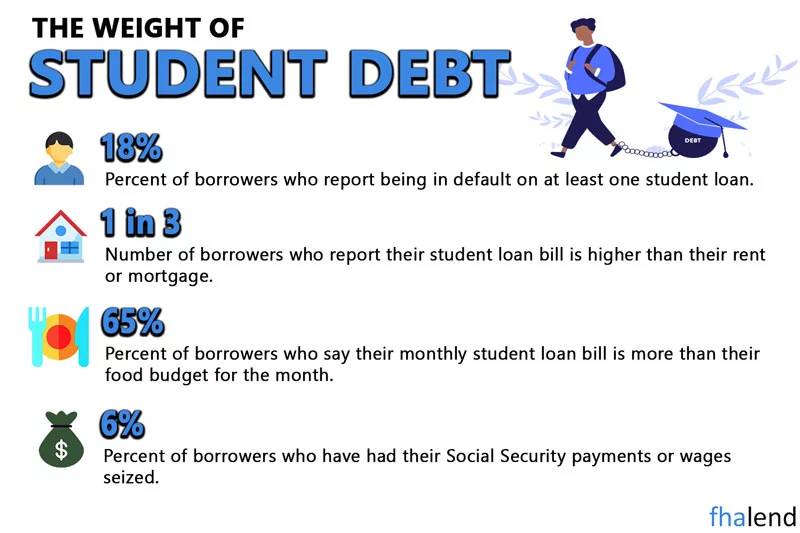 There is a similar program for students (College Convenience FOM) looking for 5% financing thanks to their parents. Below are all requirements from Fannie Mae for the 2022 year.
Off-campus accommodation may help your kid feel at home and improve their college experience, whether he or she goes to school across the country or an hour away. The Family Opportunity program allows parents to purchase a one-unit second home with proof of their child's enrollment. Here are some important points to remember about this program:
| | Family Opportunity College Convenience Requirements in 2022 |
| --- | --- |
| 1 | The property must be located near the university. |
| 2 | To be classified as a second home, a property must be at least 50 miles from the parent's house. |
| 3 | Property cannot be rented and must be occupied by the child for at least one year. |
| 4 | Borrowers are not permitted to have any additional residences in the same neighborhood. |
| 5 | If a property is going to be used as a second home, it must first be registered, underwritten, and priced. |
| 6 | The lender does not have to live in the property and is responsible for all repairs, taxes, insurance payments and upkeep. Rather, the owner of the home is your kid once they've applied and qualified for a loan and acquired it. |
Income Requirements For Family Opportunity Mortgage
Qualifying according to these standards is the same as qualifying for a regular loan through Fannie Mae. A credit score of less than 600 is required to qualify for a home loan, which is higher than the national average. This implies that the borrower will need a better than typical credit score in comparison to other home borrowing alternatives.
The borrower will also need to have a steady stream of income for at least the previous two years. However, the main borrower does not have to reside in the property as a primary residence. Documents may include pay stubs, annual W-2 statements, tax returns, investment, and retirement account statements.
The borrower will be expected to submit papers relating to their income as well as assets, just like with any other loan. Pay stubs, year-end W-2 documents, tax returns, investment, and retirement account statements will all be required
The main advantage of this arrangement is that the new loan is subject to the same criteria and rates as an owner-occupied property, even if the adult child or parent already owns a primary dwelling.
This deliberate loophole stipulates that if the person who will occupy the home has a disability or is elderly and does not have enough income to qualify on their own, you can take advantage of "owner-occupied" standards and rates.
Another advantage is that the homeowner does not have to be on a loan. That implies you might be eligible even if your aging parent or adult child with a disability has poor or no credit or owes a lot of money.
A senior parent, for example, may have outstanding medical bills that have damaged their credit. This program is unconcerned about this. It's also possible to include the occupant in the loan. Keep in mind that they will have to make debt payments, included in the total debt-to-income ratio, which may reduce your eligibility.
The Family Opportunity Mortgage Program vs. a Second Home vs. Investment Property
When opposed to purchasing the home as a second home or investment property, the Family Opportunity Mortgage is a far better deal.
Rate of Interest
The interest rates on a second home versus an investment property differ significantly. The rates on a second house loan are similar to those on a primary residence. However, the rates on an investment property are substantially higher. The Family Opportunity Mortgage was developed to make these purchases as cost-effective as feasible. As a result, they have interest rates comparable to those of primary residence loans. Investment properties, on the other hand, frequently have higher rates. Because these loans are fundamentally riskier, lenders charge higher interest rates, making them financially viable.
Eligibility Requirements
To qualify for a loan through the FOM program, the property must be occupied by a parent, a kid in college, or a disabled adult child initially. You can rent the property to whoever you want with an investment loan. Fannie Mae aims to ensure that loans made through the FOM program are utilized to buy safe, pleasant homes for family members rather than being turned into hard investment loans. Limiting the types of properties that can be purchased is part of this purpose. The only properties that can be purchased with a FOM are single-family homes. There will be no duplexes or multiunit properties allowed.
Reserves
Reserves are funds that will be available once you complete your house purchase. These are considered emergency savings that guarantee lenders that you will be able to make payments if you face any unexpected expenses or income loss. Some lenders require reserves for second homes, and they are virtually always required for investment properties. These reserves can be anywhere from two to six months' worth of your overall housing payments. To avoid fully liquidating your savings, take this in mind while determining the amount of your down payment.
Maximum Loan Amount
FOM Loans are subject to conforming loan limits, whereas investments are not. Because Fannie Mae backs the FOM program, it must adhere to doing loan guidelines. These restrictions are decided on a county-by-county basis, and in most regions, they allow for the purchase of a decent home. There are no regulatory constraints on how an investment loan can be arranged. The greater the loan, however, the more difficult (and expensive) to qualify.
No Distance Requirements
Lenders typically require a 50-100-mile distance between your primary house and the new residence to qualify for a second mortgage. On the other hand, an investment borrower has the freedom to live as close to or as far as they choose to their rental property. These landlords should have a property management strategy to manage the day-to-day operations and maintenance required for an investment property, regardless of their proximity to it.
Income
Your job and income need to support your primary residence and the house you're purchasing for your parents.
Both of these loan options have benefits for those with qualifying income. For the family opportunity mortgage program you can use two sources of income for these loans: your own and that of a family member. In addition to your income, if your parent or child has any income, that income can be submitted to the application. This could significantly boost your purchasing power.
However, you may be able to utilize monthly rental income as stated income on an investment loan application. Future rent checks can effectively be declared as income, increasing your qualifying amount.
What is the Required Debt To Income Ratio For Family Opportunity Mortgage?
FOM Loans demand a debt-to-income ratio of up to 50%, while investment varies between 40% and 45%. The lesser the debt compared to their income, the better, so no more than 45% debt-to-income ratios are typical for investment loans. However, with the Family Opportunity Mortgage program, you may be able to get financing with a DTI as high as 50%. This may not be a significant difference, but it can make or break loan approval.
How Do You Qualify To Obtain Family Opportunity Mortgage?
Standard owner-occupied guidelines apply to the Family Opportunity Mortgage. In general, you'll need:
Your credit score needs to be at 620 or higher
Automated debt-to-income underwriting approval (DTI) through the AUS Desktop Underwriting System Approval
Stable income and job history in the past 2 years. Part-time income can be added as well.
Have enough money to cover your 55% downpayment, current living expenses as well as the additional costs of owning another residence
This latter issue is crucial and deserves further explanation. The lender will check if your salary can sustain both the new home payment and your current debts. Your debt-to-income ratio should be 45 percent or less after all expenses, although it could be higher based on your Automated Underwriting response.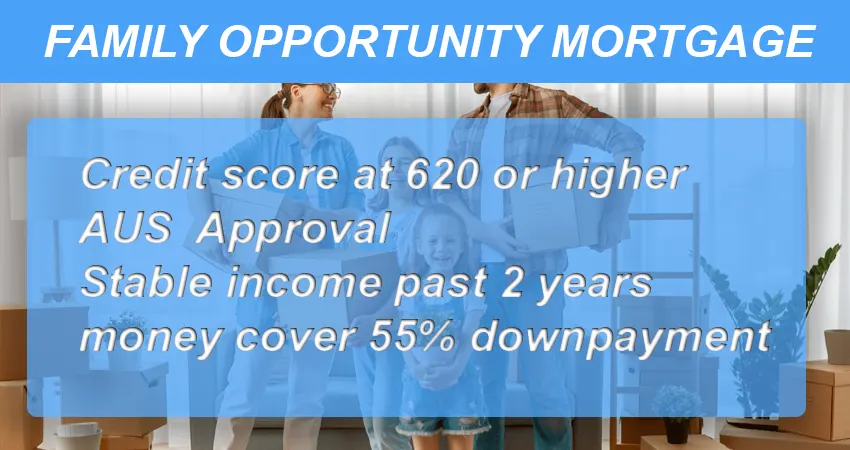 Can I buy a Multifamily Home WIth Family Opportunity Mortgage?
The answer is No, The Family Opportunity program enables you to buy only a one-unit second home if you can show proof of your child's enrollment.
The Recipient's Income Must be Insufficient at home.
The most important criteria for the Family Opportunity program are that the elderly parent or disabled kid cannot afford the home independently.
Inability to work
Insufficient earnings to qualify
A couple of points to consider: the future home occupant may work or receive government help. That amount of money can't possibly be enough to qualify. Furthermore, bad credit is not an acceptable explanation for purchasing a gift for a loved one. You'd have to buy the house as a second home or investment property if they have enough money but bad credit.
What Documents Are Required To Get a Family Opportunity Loan?
If there's any doubt about whether you're related, such as if you have a different last name, provide proof of relationship.
Proof of income from a parent or adult child, such as pay stubs from work or a disability/Social Security award letter
Letter of explanation saying that your primary residence will be kept and that this purchase is being made to benefit an aged parent or an adult kid with a disability.
The Family Opportunity Mortgage has advantages over assisted living and in-home care.
A Family Opportunity Mortgage could be less expensive than a nursing home. If your loved one needs assistance, consider purchasing a property and arranging for in-home care.
Nursing homes are expensive, and the fees are rising. Surprisingly, purchasing a home may be less costly than assisted living. When you buy a house, at the very least, you have the benefit of appreciation.
Mortgage Lenders for Families in 2022
One disadvantage of this service is that not all lenders participate. You may already have called a few and been told no. This is because not all lenders follow Fannie Mae's requirements and apply additional rules to their underwriting. Fortunately, we are a mortgage broker and we work with over 180+ investors they have this program available for you.  Fill out the form below, and we'll call you within 1 hour to discuss your mortgage options and pre-qualify you for a home so you can start shopping even tomorrow.