500 Credit Score Mortgage Lenders for 2023
Mortgage lenders are responsible for assessing an individual or business creditworthiness and providing them with mortgage options that suit their needs and financial situation. There are different types of mortgage lenders and some of the them have overlays.
Based on a HUD guidelines and minimum credit score requirements to qualify for an FHA loan, mortgage lenders are permitted to lend money for 500 credit score clients. Below is a list of 500 credit score mortgage lenders who doesn't have mortgage overlays and the loan submitted to them will typically go through manual underwriting so they can close your loan on time and get you to a closing table mostly likely with 30 or less days.
At FHA Lend, we believe that people with 500 credit score, recent medical and non medical collections, bankruptcy or foreclosure still deserve to buy they dream home. We are mortgage brokers and we work closely with around 200 lenders to make sure we can have all possible products and different mortgage wholesale lenders who don't require 640 or higher credit score to pre-approve you for your residential loan.
In this article (Skip to…)
Mortgage Lender VS Mortgage Broker
When you're looking for a 500 credit score mortgage lender, it can be hard to know which lender best first for your needs. Should you go with a traditional bank or a nationwide mortgage broker like we are? If you're you looking for a specific product and have a low credit score, issues on your credit report then you a mortgage broker will be your best option.
Mortgage Brokers
Mortgage brokers tend to have access to more lenders than a single lender would offer on their own. This gives them an advantage of being able to compare different deals and find one with the best terms available. Mortgage lenders, on the other hand, typically only offer products from their own institution.
Mortgage Lenders
A traditional mortgage lender is typically a bank or credit union. Mortgage lenders, typically only offer products from their own institution. These lenders offer mortgages to homebuyers and can be either conforming or non-conforming, depending on the loan terms and guidelines they follow.
Wholesale Lenders
A wholesale lender is an entity that provides loans and other financial services to businesses and individuals, typically at lower interest rates than traditional lending institutions such as banks or credit unions. This type of lender specializes in providing capital to borrowers who may not qualify for traditional financing methods due to poor credit score, lack of collateral, or other factors. With the help of a wholesale lender, borrowers can secure the funds they need for their businesses and personal projects more quickly and easily. One of the biggest whole sale lender in US is
UWM
. You can obtain a loan through them but not directly, you need a mortgage broker to be able to qualify you.
Do I Need a Mortgage Broker to Use UWM or EPM?
Yes, UWM or EPM Wholesale are whole mortgage lenders and you need a broker to get financing through them. There are close to 200 mortgage brokers we work with to be sure we can find you the best product possible and you can qualify with their set guidelines.
500 Credit Score and Impact on Approval For a Mortgage
One of the biggest impact on your residential mortgage qualification is you credit score and right after that is your income, steady job and issues like bankruptcy, foreclosure or late payments.
With 500 credit score you can qualify for VA, USDA or FHA Loan. There is a minimum 500 credit score requirements for FHA loan. VA Loan have no credit score requirements based on HUD guidelines as soon you will find a mortgage broker who specialize in these type of loans like we do. Remember that as your credit score drops below 580, the terms and qualifications for loan acceptance may vary. Once you have familiarized yourself with what is listed here, we can then help link you to a mortgage lender who specializes in bad credit loans!
500 Credit Score Mortgage Lenders List for 2023
EPM is licensed in 50 sates including Puerto Rico and Washington, D.C.. They specialize in low credit score mortgage programs. They offer programs such us: Good Neighbor Next Door, CHOICERenovation, FHA $100 Down, Home Possible and HomeReady
Carrington Mortgage Services
Carrington Mortgage Services
– With Carrington you can qualify with 500 credit score for FHA, VA or USDA loan. They offer financing in 50 states and they do have offices in AR, CA,CT, FL, IN and MD. They've been in a business for 18 years and they are one of the biggest
NON-QM
lender next to Angel Oak. They offer 15 or 30-year fixed-rate and ARM with 5/1, 7/1, or 10/1 loan terms
Angel Oak Mortgage Solutions is licensed in 44 states. They have no overlays and they specialize in NON-QM, bank statement and investment loans.
Citadel is licensed in 38 states and DC nationwide. It has been rebranded toAcra Lending in 2021. One of the main NON-QM lenders, lending for 500 credit score borrowers.
Freedom Mortgage is licensed in all 50 States, the District of Columbia and Puerto Rico. They offer mortgage programs including FHA, VA, and Renovation Lending
They offer FHA loans with 500 credit score with manual underwriting, also if your score is 550 they will approve you per AUS findings. They are licensed in 17 states and they do lend in New York
FDIC bank lending in all 50 states, lending non-qm loans and they offer commercial, small business and non-resource IRA loans.
Types of Loans When Having 500 Credit Score
For those with credit scores below 500, there are still some government-backed loan programs available. These loans typically involve more stringent requirements than conventional mortgages, but they can be an option for those looking to purchase a home with less than ideal credit. Some programs, such as FHA and USDA loans, offer lower interest rates to borrowers with low credit scores.
How To Check If You Sure You Score is at 500?
Keeping track of your credit score is essential in today's world – it can be the difference between loan approval and denial, as well as having a positive or negative impact on your future financial stability. While it's important to get an understanding of your credit score, you don't need to pay for a report.
There are several ways that you can check your credit score for free. You can request a free annual credit report from each of the three major credit bureaus: Equifax, Experian, and TransUnion. Additionally, some banks may offer free access to your credit score if you have an account with them. Lastly, there are several online services that allow you to check your credit score for free on a regular basis.
Manual Underwriting for 500 Credit Score Clients
When you have a low credit score but still want to pursue homeownership, manual underwriting could be your best option. This type of financing offers flexibility and can allow applicants to secure financing even if they don't meet certain traditional credit requirements. Manual underwriting can also provide applicants the opportunity to explain their individual financial situation and circumstances, which could lead to a more favorable outcome.
How To Prepare If You Credit Score is at 500
If your mortgage broker will decide that manual underwriting is the best option for your needs, it's important to take some steps in order to prepare for this process. You should begin by obtaining copies of your credit report and examining it for any errors or discrepancies. Make sure all of your accounts are up-to-date and in good standing, and gather documents such as bank statements or tax returns that may be requested during the application process.
It just depends on a minimum mortgage program requirements and if they have additional guidelines (mortgage overlays) to lower their risk of buy backs.
FHA vs. Non-QM Loans
FHA and Non-QM loans are two types of home mortgage options available in the current market. An FHA loan is backed by the Federal Housing Administration (FHA) and has traditionally been used to help low-income households achieve homeownership. A non-QM loan, on the other hand, is a lender-specific product that can be tailored to meet each borrower's needs depending on their financial situation.
In most cases FHA will require you of a minimum 500 credit score, where Jumbo or Non-QM products at least 620 credit score.
FHA vs. Conventional
When it comes to mortgage options, many U.S. citizens typically limit their choices to two types: Conventional and FHA loans. While a conventional loan is borrowed from private lenders with no government insurance involved, an FHA loan offers the backing of the Federal Housing Administration as assurance for both borrowers and lenders alike. As a result, you can borrow more money without increasing costs in most cases.
Unfortunately, the majority of lenders demand that borrowers meet a minimum credit score requirement set at 600 and above. If you don't qualify for conventional loan options, your next move would be obtaining an FHA loan. Federal Housing Administration (FHA) mortgages are tailored to assist first-time homebuyers, particularly those with FICO scores falling between Poor and Fair. Conversely, conventional loans are best suited for experienced buyers whose credit score falls within the Good range.
500 Credit Score Mortgage Program Available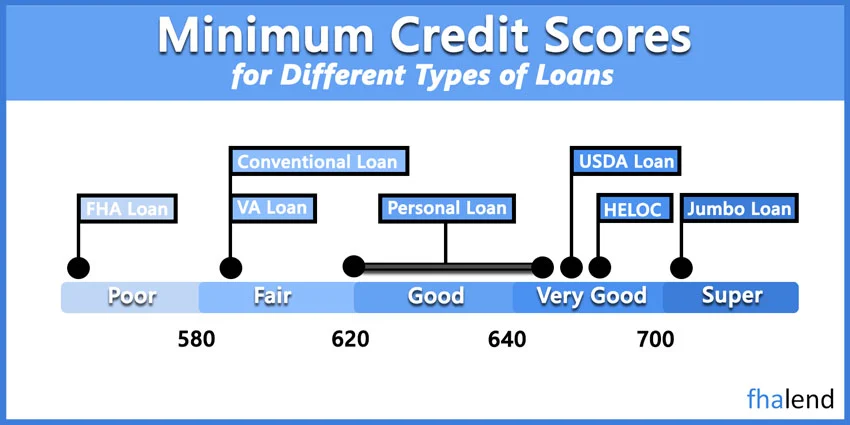 500 Credit Score FHA Loan Program
The FHA is a government-sponsored loan program that insures mortgages and helps lenders minimize the risk of lending to borrowers who may not have ideal credit scores. This means that banks are more likely to approve loans for those with lower credit scores, such as 500.
In order to obtain an FHA loan with a 500 credit score, you must meet certain requirements.  Additionally, you must be able to demonstrate that you can make your monthly mortgage payments
You need 10% with 500 credit score or 3,5% with 580 or higher FICO
You Need to Pay For MIP (Mortgage Insurance Premium) and It cannot be cancelled like for a conventional loan (PMI))
You Taxes & Insurance needs to be Escrowed
Provide W2 in past 2 years, 30 days of paystubs, bank statement to prove you have funds for a downpayment
Two forms of valid identification (driver's license, Social Security card, passport or state ID)
500 Credit Score VA Loan Program
Unlike other loan types, VA loans do not require a minimum credit score; instead they use an applicant's income and debt-to-income ratio to determine eligibility. With this in mind, veterans can take advantage of the unique benefits that come with VA loans to purchase or refinance their home without having to worry about meeting standard credit score requirements.
no required private mortgage insurance (PMI)
no downpayment requirements, if your score is very low you might need to put some money down
VA Funding fee required
Provide W2 in past 2 years, 30 days of paystubs
90 consecutive days of active duty service
181 days active duty service during a peace time
500 Credit Score USDA Loan Program
In order to qualify for a USDA loan, borrowers typically need to have a minimum credit score of 620, though some lenders may require a lower credit score with a compensating factors. So please contact us and we will try to help you. These loans have been specifically designed for households that fall into the lower to middle range of income, which is why each county has a set limit.
It doesn't matter if your credit score isn't ideal either; you are still more than welcome to apply. Though be aware that manual underwriting may occur in such cases. The United States Census Bureau states that an astonishing 97% of the population resides in rural areas, so although a rural housing loan may appear to be specialized, it can actually serve millions of Americans across the country.
property must be located within a rural area (USDA eligible location)
no down payment requirements
W2 in past 2 years, 30 days of paystubs to document your income
Common Mistake When Applying With 500 Credit Score
One of the most common mistakes people make when applying with 500 credit score loan is not being honest about their income or financial situation. It's important to provide accurate information on your loan application in order to avoid delays or denials due to misrepresentation.
What Is the Minimum Credit Score to Qualify for a Purchase?
If you find a lender with no overlays they will go with HUD guidelines so for FHA loan you need 500 minimum credit score, VA loans has no credit score requirements. For conventional loans you need at least 620 credit score.
Is 500 Credit Score is Really Bad?
Your score ranges from 300 to 579, which is considered Very Poor. A 500 FICO® Score places you significantly below the average credit score, and thus many lenders decide not to do business with individuals in this range due to their less than ideal credit situation.
How Fast Can You Fix a 500 Credit Score?
Fortunately, any improvements you make to your credit score can have a considerable effect when it is low. As an example, if you begin with a poor credit score of 500 and work diligently over 12-18 months to improve it to the fair range (580-669), that goal is definitely achievable!
Can I Do Anything With a 500 Credit Score?
Just 200 points away from being considered a "good" credit score, and 140 points shy of the benchmark for being deemed as "fair", those with a 500 credit score might find it difficult to be approved for loans or cards. Nonetheless, this shouldn't completely stop you from trying either!
Can You Buy a House With a Credit Score of 500?
Securing an FHA loan, which is backed by the government, can grant you access to a mortgage even if your credit score is just 500. Although it may be enticing to buy a home right away, taking some time to review potential options and rates before beginning the loan application process will ultimately save you more money in the long run.
What is The Easiest Mortgage Loan to Get Approved For?
The easiest mortgage loan to obtain if your credit score is low is VA Loan if you are a Veteran or FHA loan insured by FHA which has 500 minimum credit score requirements.
How to Get a Loan When No One Will Give You One?
If you're unable to acquire cash through a personal loan, there are other alternatives such as utilizing a credit card, obtaining an alternative payday loan from a credit union or borrowing money from family and friends. However, these options aren't ideal; for instance, high interest rates may be associated with the use of credit cards while asking someone close to you for money can come with risks.
Where is The Easiest Place to Get a Residential Mortgage Loan?
Credit unions are ideal for individuals with fair or poor credit who need a loan. They often have more lenient standards and lower interest rates, making them an attractive option to consider. However, before you can apply for a loan at this type of financial institution, you must first become a member – usually by paying some sort of small fee upfront. Another option would be a mortgage broker like we are, because we do have access to almost 200 lenders, so we can find a product or a lender to your to suit your needs the best.
Can I Buy a House With a 480 Credit Score?
Typically, to receive the highest loan amount when purchasing a new home, applicants need to have at least 580 credit score. Although a credit rating between 500 and 579 is still possible, according to FHA regulations it would be limited up until 90% of the total loan value (LTV).