Qualifying for FHA Loan After Bankruptcy
Thousands of people are currently looking for a mortgage after filing for bankruptcy. Suppose you've exhausted all other options and have decided to file for bankruptcy. In that case, you should understand your options and how they will affect your current mortgage or future ability to receive home loan financing – finding a mortgage after bankruptcy used to be complicated.
Qualifying for FHA loan after bankruptcy can be done as soon as you passed the below waiting period for each type of loan or you find a broker like we who specializes in this type of loan. Over 75% of our borrowers have filed for bankruptcy and have late payments or medical collections on their credit reports. Thanks to us you can now get a mortgage the same day you declare bankruptcy.
In this article (Skip to…)
How Long Can I Get a Mortgage After Filing for Bankruptcy?
It is feasible to get a home loan after bankruptcy, but it will take time and patience. After bankruptcy, you'll also need to take action to improve your prospects of getting a mortgage. Even if you are only one day out of bankruptcy, there are bankruptcy lenders who can assist you with your mortgage. You'll almost certainly require a more significant down payment and evidence that you're working to improve your credit. A bankruptcy filing can reduce or even eliminate your debts. Still, it can harm your credit report and score in the process, affecting your ability to receive credit in the future for things like new credit cards, vehicle loans, and home mortgages.
| Loan Program | Chapter 7 | Chapter 13 |
| --- | --- | --- |
| Type of Loan | Chapter 7 | Chapter 13 |
| Conventional | 4 years | 2 years |
| FHA Loan | 2 years | 1 year |
| VA Loan | 2 years | 1 year |
| USDA Loan | 3 years | 1 year |
| Non-QM Loan | 1 day | 1 day |
What Is The Difference Between Chapters 7 & 13?
Each has pros and downsides. Thus Chapter 7 bankruptcy is a far better alternative for many people, while Chapter 13 bankruptcy is recommended for others. Simple cases should be filed under Chapter 7, whereas more sophisticated claims should be filed under Chapter 13. Alternatively, if you have non-exempt assets, Chapter 13 can allow you more control and flexibility with some types of creditors. If you don't have that kind of debt or assets or don't have much in the way of tangible assets, Chapter 7 is probably the faster and more accessible alternative.
After Chapter 7 Discharge


In a Chapter 7 bankruptcy, a judge discharges your qualified debts. After a Chapter 7 bankruptcy, most home buyers must wait at least 2-4 years to be approved for a mortgage. You may be able to qualify sooner if you were forced into bankruptcy due to circumstances beyond your control, but early approval is rare. Your credit will, unfortunately, suffer as well. To qualify for a conventional loan, you must wait at least four years after the court discharges or dismisses your Chapter 7 bankruptcy.

After Chapter 13 Discharge


The debtor is eligible for a discharge after making all payments under the Chapter 13 repayment plan. Under certain circumstances, a debtor may request a "hardship discharge" before completing the project. This option is only available to those who cannot pay due to circumstances beyond their control. Once all payments under the Chapter 13 repayment plan have been made, the debtor is eligible for a discharge. This is exclusively for people who cannot pay due to circumstances beyond their control.
After Filing For Bankruptcy, How Long Must You Wait To Qualify For A Mortgage?
Although bankruptcy is a terrible reality for many people, it does not exclude you from obtaining a mortgage in the future. The waiting period for each form of loan is different. Here are some fundamentals:
After bankruptcy, there is a two-year waiting period for VA loans.
After bankruptcy, FHA loans require a two-year waiting period.
After bankruptcy, there is a three-year waiting time for USDA loans.
After a chapter 7 or chapter 13 bankruptcy, conventional mortgages are available after a four-year waiting period.
How Can I Get a Mortgage After a Bankruptcy?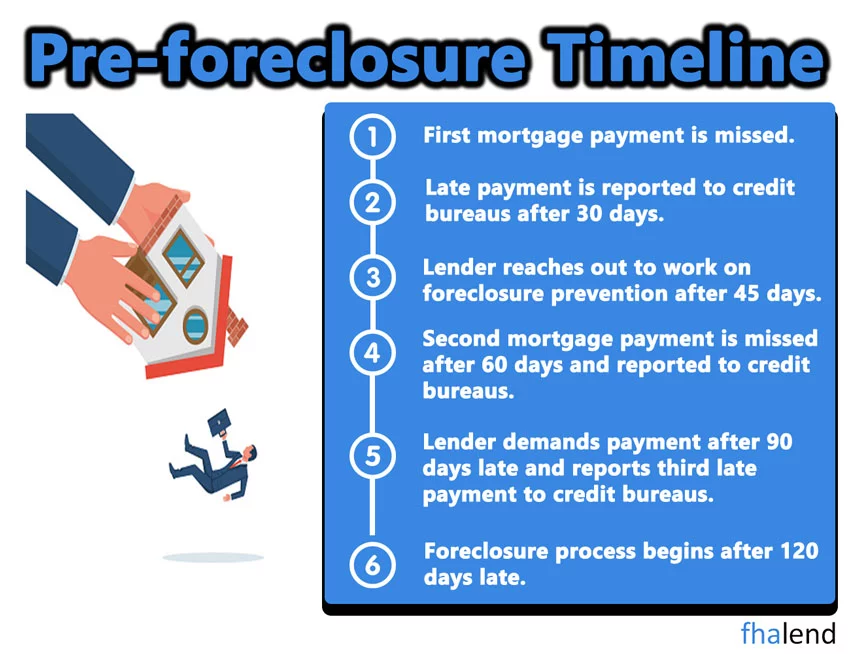 Examine your credit files –

Examine each of your credit reports from the three credit bureaus. Be sure that all of the accounts listed in your bankruptcy filing are correctly recorded. Look for any inconsistencies or errors. Even a minor mistake might deduct points from your credit score. If a credit bureau discovers an error or inaccuracy, they must rectify it or remove it from your credit report.

Restore Your Credit Score – Both bankruptcy and foreclosure can severely harm your credit score, though the effects will fade with time. There are some positive activities you can take to improve your credit score and address any errors found on your credit reports. It's critical to avoid late payments after bankruptcy or foreclosure, as these can harm an already-low score.
Establish a Stable Income –

When you apply for a mortgage, having a stable income can make you appear less dangerous to lenders. Lenders prefer homebuyers with long employment histories and regular monthly payments. The sources of income that qualify for a mortgage differ depending on the loan type.

Examine Your Loan Options – 

You can use this time to improve your credit while also researching different home loan requirements. Credit ratings, income, assets, and debt are all distinct requirements for different types of loans. Expect to make a sizeable down payment and pay a higher interest rate if you apply for a new mortgage following bankruptcy or foreclosure.

Get ready to apply – 

You'll want to make sure you have enough money set out for a down payment. The lender may determine the amount you require. Specific paperwork can be organized to help you get mortgage-ready. Keep in mind that if your credit score remains poor due to bankruptcy or foreclosure, you'll almost certainly pay a greater interest rate on your loan than you would otherwise.
One Day Out of Failing Date Bankruptcy
You can qualify for an FHA or any other loan when you got your bankruptcy chapter 13 or chapter 7 discharged yesterday but your filing bankruptcy date was in the example 4 years ago. We can do these by comparing other mortgage brokers or banks when they have strict rules related to lender overlays. At FHA Lend we specialize in these types of loans, following with Non-QM loans and any other products we offer.
Bankruptcy and Application Process To Qualify For FHA Loan
If you have at least a two-year-old bankruptcy on your record, you can apply for an FHA loan in the same way as someone who has never had a bankruptcy.
After filing for bankruptcy, you will be required to wait two years.
You must have a consistent work history (typically at least two years)
They require you to have a mortgage insurance premium (MIP)
Both taxes and insurance must be escrowed with FHA mortgages.
The home must be your primary residence.
They necessitate the payment of a mortgage insurance premium (MIP)
Bankruptcy And Application For USDA Loan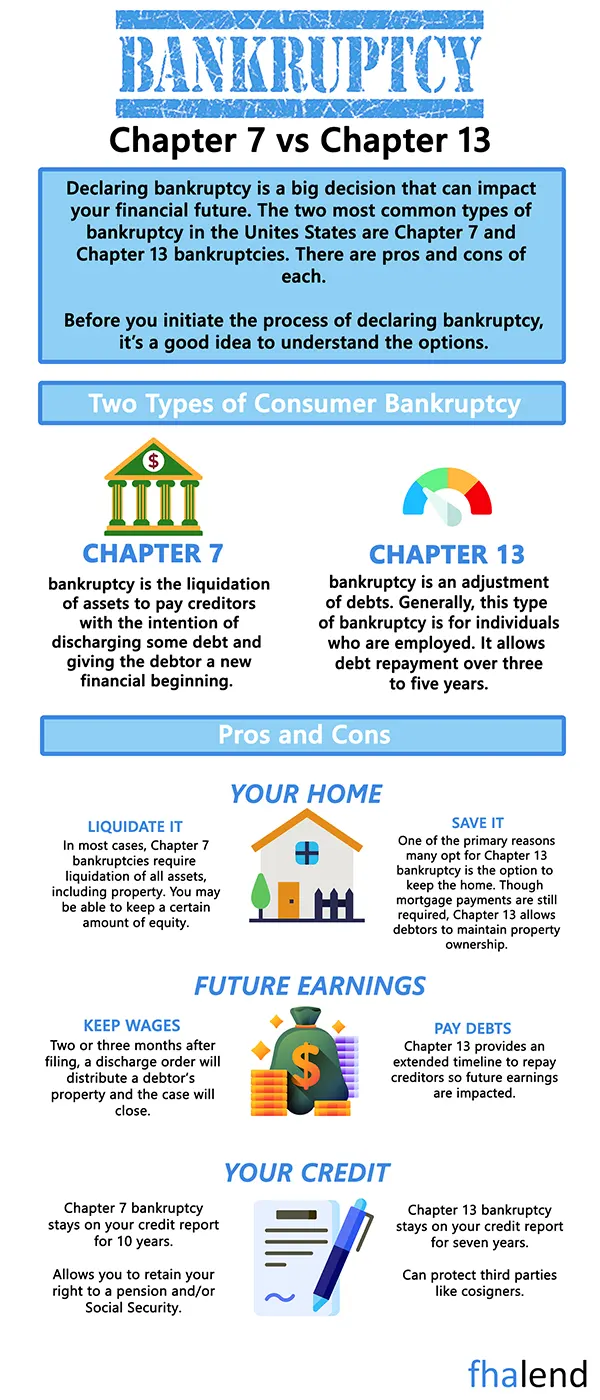 While it is normally necessary to wait three years following a bankruptcy discharge or dismissal to qualify for a USDA loan, exceptions can be made depending on the kind of underwriting and the circumstances of the scenario.
After filing for bankruptcy, you will have to wait three years.
Must stay within the program's income guidelines.

You must be a citizen of the United States or a qualified non-citizen to participate.

The house must be your principal residence.
Currently, they must be without secure and sanitary housing.
You must be able to borrow legally.
Must be unable to secure a conventional loan from other sources and lenders at this time.
It is possible that you will not be denied access to any government lending programs.
Refinancing After Bankruptcy
It's upsetting to know that, even if you've put your funding issues behind you, lenders will still judge you based on your previous mistakes. However, with time and effort, you will be able to refinance your property and benefit from your financial gains.
Make an application with a lender of your choice.
Set your interest rate.
Appraisals And Underwriting
The Loan Is Closed
If you're still not sure whether sticking with FHA, VA, USDA, Conventional or NON-QM loan after bankruptcy is right for you, speak to a mortgage specialist. We can help you understand your options and make sure you're getting the best possible deal.