Qualifying for FHA Loan After Foreclosure
After a deed-in-lieu of foreclosure, a short sale, or foreclosure, you may resell the property. It's possible with some effort and patience.
A foreclosure on your credit report will deter lenders from offering you new financing. However, if you've shown that you've reestablished yourself and maintained excellent credit score after foreclosure, there may be light at the end of the tunnel. A foreclosure may be a distressing experience. Many who go through this process feel a sense of hopelessness about ever being able to buy a home again soon.
Even if you have a recent foreclosure on your credit report, you may be able to purchase a house with a mortgage in the future. However, under lending regulations, you'll need to wait until the seasoning period has passed and the waiting period for FHA loans is different.
In this article (Skip to…)
What is a Foreclosure?
A foreclosure happens when a homeowner is unable to make their mortgage payments and the bank repossesses the home. This can be a devastating event for the homeowner, as they not only lose their home but also their equity in the property. There are many reasons why someone may default on their mortgage payments. Sometimes it's due to job loss or underemployment, medical bills, or other financial hardships.
In some cases, the house may be worth less than what is owed on the mortgage, which is called being "underwater." No matter the reason, facing foreclosure can be a daunting experience. If you're facing foreclosure, it's important to know your rights and options. There are programs available that can help you keep your home, or at least delay the foreclosure process.
There are also options for what to do after a foreclosure, such as renting or purchasing another home. No one wants to go through foreclosure, but it's important to know that you're not alone and there are resources available to help you through this difficult time.
How Fast Can You Purchase a House After Foreclosure?
The mortgage lender or broker will be looking for evidence that the circumstances that led to the foreclosure have been fully resolved and are unlikely to reoccur. If you had a medical emergency, incurred significant hospital charges, and missed work since, but are now recovered, you're likely to be accepted as a house buyer. However, if you had gambling issues and continue to frequent the casino, you will not be approved.
In general, underwriters are looking to confirm:
You had excellent credit before the foreclosure.
Since the foreclosure, you've had excellent credit.
The foreclosure occurred just one time.
Since the occurrence that resulted in your foreclosure, you've either recovered or made significant changes to your life.
Extenuating Circumstance On Foreclosures
There are certain loan sorts that allow for shorter waiting times due to "extenuating circumstances." In a nutshell, it's an issue beyond my control. Medical emergencies or the death of a breadwinner are examples of extenuating circumstances that might be considered. A divorce, a decrease in equity, or an inability to sell your home would not qualify as extenuating circumstances — but they are certainly terrible situations.
The loan underwriter will look at the specifics of your situation and make a decision. He or she must create a case that your foreclosure was caused by an occurrence outside of your control, and despite your best efforts, you were unable to keep the home.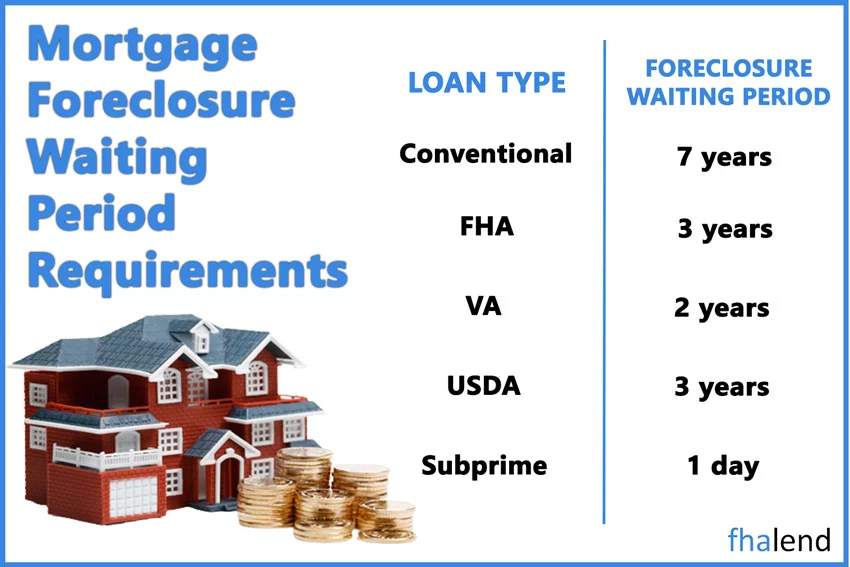 Foreclosure Waiting Period For FHA Mortgage Loan
FHA loans have a three-year waiting period following foreclosure. The FHA loan program does allow for demonstrated exceptional circumstances, but it doesn't lay out a precise timetable. That said, you should expect it to be at least one year long. Before applying for a new FHA mortgage, the regulations state that "the borrower has rebuilt good credit" over the course of at least one year since the foreclosure.
The FHA foreclosure waiting period is three years, but the start date will be determined by whether the loan on your foreclosed property was an FHA Loan. The Federal Housing Administration requires at least 12 months for bankruptcy and, in most cases, a similar minimum period for foreclosures.
However, there is no mention of "possible extenuating circumstances" in the guidelines. A "death or serious illness of a wage earner" might be considered a possible extenuating circumstance, but an inability to sell the property due to a relocation or a job transfer does not qualify. Divorce is only considered an extenuating circumstance if you no longer owned the property and your spouse defaulted on the loan after you were divorced.
How Long Does It Take to Get Out of Foreclosure?
A foreclosure delay for an FHA loan will vary based on whether your previous mortgage was an FHA loan or not.
If the mortgage on the foreclosed property was financed with an FHA loan:
When the preceding FHA mortgage on the property that was foreclosed is paid, the waiting time begins.
If the foreclosure property was not acquired with an FHA loan, the lender will foreclose on it:
The waiting period begins the day after your home is sold by the sheriff. There are times when the lender retains possession of the property and pushes back your three-year waiting period start date.
It's possible to obtain an exemption for the waiting period, and we'll go over how that works below:
After the foreclosure, you can use an FHA loan. A homeowner who has been foreclosed on or given a deed-in-lieu of foreclosure within the previous three years is not typically eligible. Foreclosure must have been completed for at least three years without any late payments dating from the date of settlement.
Borrowers who have a recent foreclosure in their credit history must adhere to the following FHA mortgage standards in addition to meeting the fundamental FHA loan requirements.
Unless there are extenuating circumstances that merit an exception, there will be a three-year wait period after the foreclosure.
Since the foreclosure, all borrowers seeking a mortgage must have rebuilt a solid credit history.
Remove any and all credit reports that contain collections.
Pay off any outstanding credit card debts.
These are merely the more stringent conditions that most lenders would require if you apply for an FHA loan following a foreclosure.
If you want to raise your chances of being accepted, concentrate on raising your credit score and putting aside money for a larger down payment than is necessary. This will demonstrate that you have re-established yourself and are a viable candidate for a fresh mortgage.
Seasoning rules for FHA Loans After Foreclosure
Government loan: The date the claim was paid determines how seasoned the product is.
Loans other than Government: The seasoning of the property is determined by when the lender sold it.
FHA Loan Requirements Include a Credit Score
In January 2010, the Federal Housing Administration (FHA) introduced a policy change to combat risk and improve finances. The credit score required for new borrowers has been raised:
New borrowers will need a minimum credit score of 580 to qualify for a 3.5% down payment under the FHA's new standards, which went into effect on July 31, 2016.
For borrowers with a credit score below 600, the FHA loan conditions are significantly stricter. New applicants with a credit score under 580 must make a down payment of at least 10%.
The FHA's ability to balance risk and continue to offer access to borrowers that have historically done well is aided by this provision.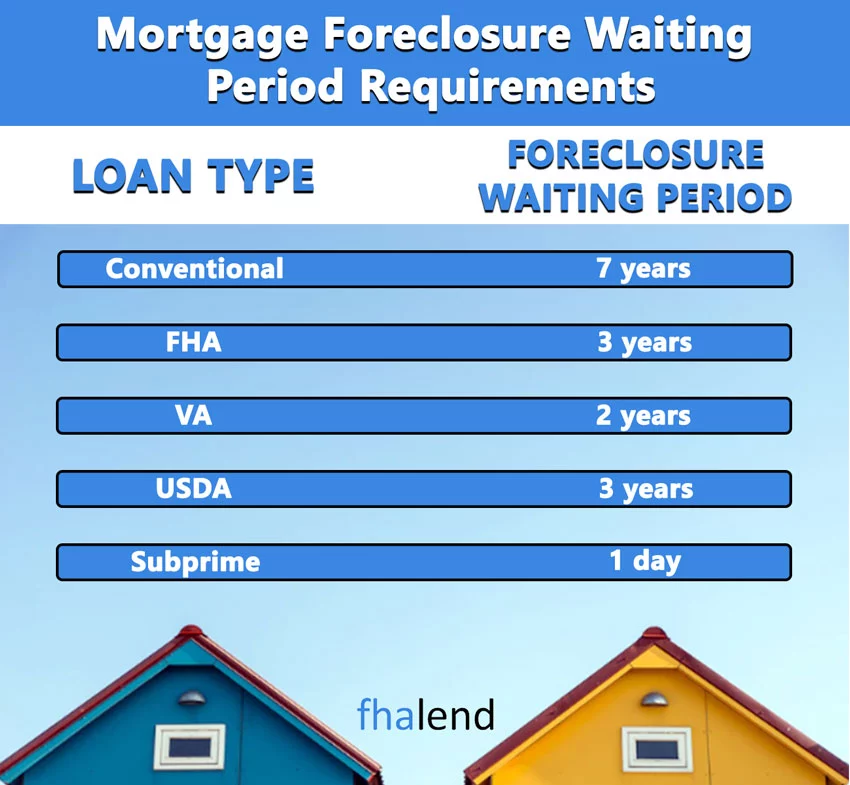 Refinance – You're certainly not alone here. You could be facing a troubling future if you can't pay your mortgage for another day or two. Stop by today to explore our different loan options and get the best rate possible! If you have good credit, we may possibly save you hundreds of dollars on your next refinancing!
FHA rate and term up to 97.75% loan-to-value
FHA cash out up to 80% loan-to-value
Minimum 500 credit score
Debt-to-income ratio – On April 1, 2013, the FHA's debt-to-income ratio limit was changed. When a customer applies for an FHA loan, they must reveal all liabilities, open lines of credit, and potential regular income sources that have been approved. The lender and the FHA can use this information to compute the borrower's debt-to-income ratio.
FHA's maximum debt to income ratio can be over 55%
Manual underwriting maximum debt to income ratio is 40/50%
Exceptions To The Fha 3-year Foreclosure Waiting Period
In exceptional cases, lenders are allowed to deviate from the FHA foreclosure waiting period. These are typically extreme circumstances that should be considered. The following are some examples:
The primary wage earner's death or serious sickness
After the divorce, an ex-spouse was unable to make mortgage payments.
If the lender accepts your extenuating circumstance, you must rebuild excellent credit.
Circumstances that do not qualify for an exception:
Divorce
Job loss for any reason
Unable to sell the home or make payments after a job relocation
Keep in mind that getting an exemption for the FHA foreclosure waiting period is extremely rare, and it is unlikely to occur. It's worth asking a loan shark, but keep in mind that the chances of receiving the exemption are slim.
To Check FHA-insured Government-backed Loans, Enter the CHAIRS Code
The Credit Alert Verification Reporting System (CAIVRS) is the federal government's database for keeping track of people who defaulted on student loans or home foreclosures with a government-backed loan.
If your lender is prepared to lend you money, she'll submit an application for you. You won't be able to look up the CAIVRS list on your own; however, your lender will check it before giving you a loan. If you're applying for an FHA, VA, or USDA loan and are on the CAIVRS list, you won't be approved for the loan.
Student loan debt, on the other hand, will remain on the CAIVRS list until it is fully paid off. If you have foreclosed on a government-backed loan and are no longer in default, you'll have to wait three years before being removed from the list.
The Department of Housing and Urban Development, the Department of Veterans Affairs, the Department of Education, the Department of Agriculture, the Small Business Administration, and the Department of Justice are all responsible for CAIVRS. You'll probably be on the list if you defaulted on obligations to any of these agencies.
The Credit Monitoring and Risk Management System, or CEMVRS, is a government-backed credit monitoring program that maintains a record of those who default on a loan such as an FHA mortgage or even a student loan.
If you have been listed in the CAIVRS system for having had a foreclosure, your new mortgage will not be approved. As a result, before you can get accepted for an FHA loan, you'll need to remove yourself from this list.
FHA Loan Alternatives After Foreclosing On a Property
Fortunately, the chance to purchase a home once again after a foreclosure is becoming far easier. There are new lending programs known as "non-qm loans," which do not require you to wait before receiving a mortgage following bankruptcy. This implies that you may possibly be able to obtain a loan immediately after your property has been repossessed!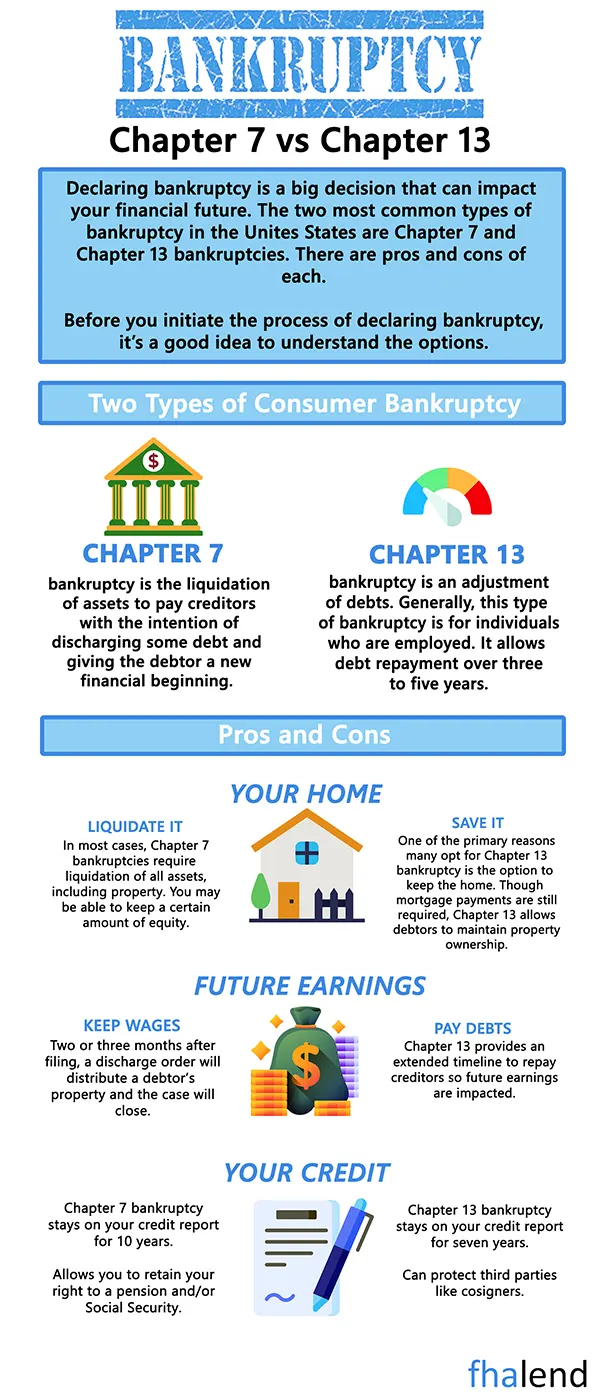 Non-prime loans have higher interest rates and require larger down payments than standard and government-backed loans. As a result, it's critical that you understand all of your alternatives so that you can make an informed decision about what program is best for you.
The rates and terms for non-prime loans, conventional loans, FHA loans, VA loans, and USDA loans differ somewhat. You may discover more details about the various waiting periods and other loan criteria in the sections below.
How to Avoid Foreclosure
When it comes to foreclosure, there are a few things that you can do in order to try and save your home.
First and foremost, you need to stay current on your mortgage payments. If you're behind on your payments, then you need to catch up as soon as possible. You should also contact your lender and try to work out a payment plan. Many times, lenders are willing to work with homeowners who are struggling to make their payments.
In addition, you should try to avoid taking on any new debt. This will only make it more difficult for you to keep up with your payments.
Finally, you should consider speaking with a housing counselor or an attorney who specializes in foreclosure law. They may be able to offer you some advice and help you navigate the process. If you're facing foreclosure, these tips can help you try to save your home.
However, it's important to remember that every situation is different. You should speak with your lender and an attorney to get specific advice for your situation. These are just a few tips to help you if you're facing foreclosure. If you need more information or assistance, please don't hesitate to reach out to us. We're here to help!
Frequently Asked Questions About FHA Loan After Foreclosure
Do I have to wait until my property has gone through the foreclosure process before applying for an FHA loan?
Before accepting your application, most lenders will want to see the foreclosure done; if your home hasn't been completely foreclosed, it means you still have an owner-occupied property.
What are the "extenuating circumstances" that qualify for an FHA loan?
Most lenders will look at any of the following to be eligible for this exemption: job loss, a serious illness or medical condition, or the death of a wage earner (who passed away).
Is a divorce considered an extenuating circumstance when applying for an FHA loan?
In most situations, the lender will consider a divorce to be an undesirable circumstance.
I had a foreclosure and bankruptcy at the same time.
If you both filed for bankruptcy (chapter 7 or 13), the clock will start from the date of your last foreclosure. The official time began when the bankruptcy was concluded, not when it was filed in most situations.