ITIN Loan Requirements For Non-Citizen
Many borrowers confront several hurdles during the application process while attempting to buy a property. Are you interested in purchasing a home but concerned that you are not a U.S. citizen? The ITIN home loan program allows those who live in the United States but do not have a social security number to apply for a loan using their ITIN.
ITIN loan, also known as an Individual Taxpayer Identification Number loan. Below are a few things you should know. An ITIN loan is a type of loan that's specifically designed for people who don't have a Social Security number. This can make it a good option for immigrants or other non-citizens who may not be able to get a traditional loan.
The good news is that having an ITIN number permits many people to apply for a foreign national mortgage and realize their American goal of buying a property. How do these loans function, and what is an ITIN number? Borrowers without a social security number but who can provide an ITIN number as an alternate form of identification are eligible for ITIN loans. You might expect a 15-25% down payment and a two-year work history.
In this article (Skip to…)
What is an ITIN mortgage loan?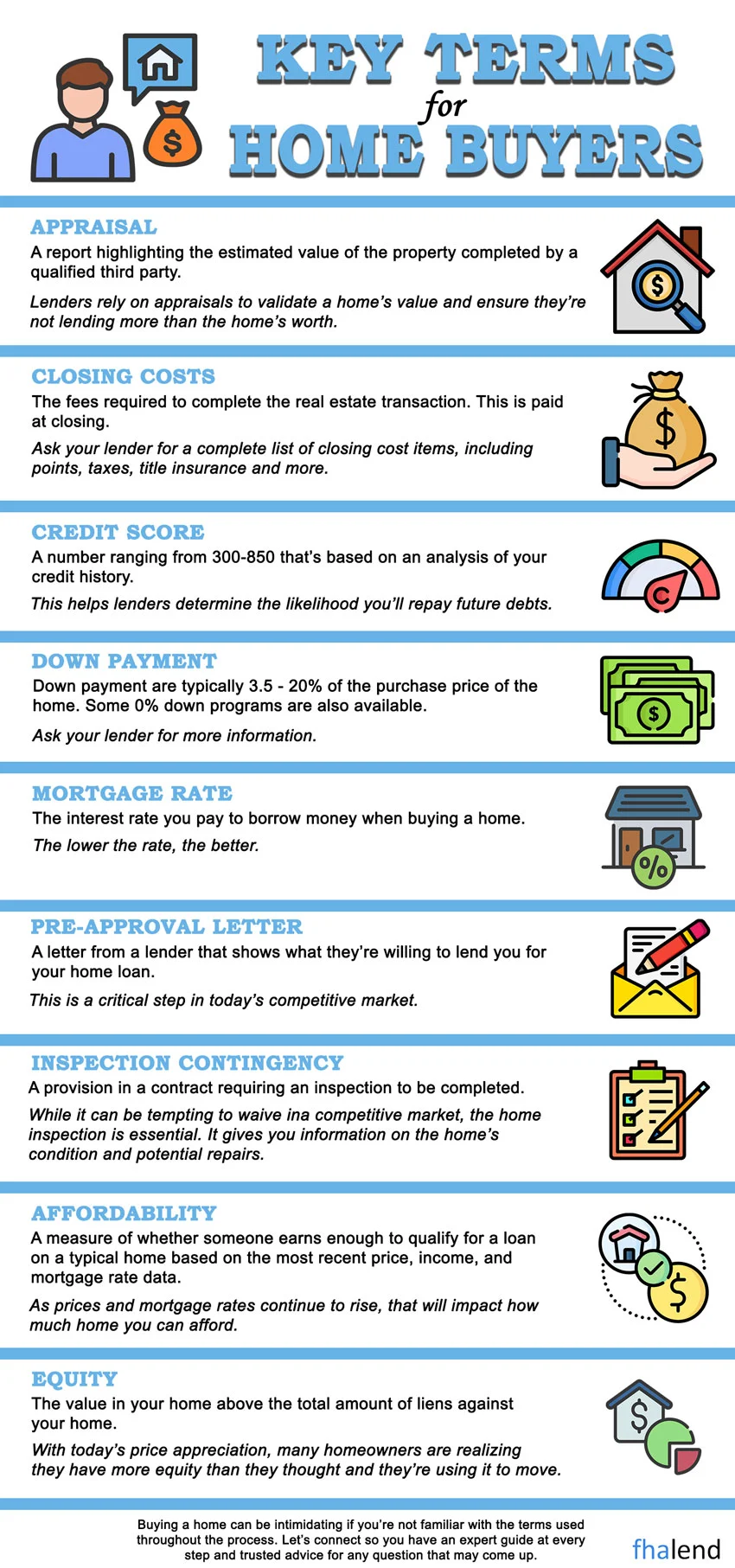 The ITIN mortgage loan program was created to let people who don't have a social security number acquire and finance a home in the United States. There are numerous factors to consider while applying for a mortgage. Choosing the right sort of mortgage is one of the most critical decisions. A few different mortgages are available, but For Americans without a Social Security Number, the ITIN (Individual Tax Identification Number) mortgage home loan is available. It is one of the most popular. To authenticate identity and examine credit history, the person uses their ITIN number instead of their social security number when applying for this home loan program.
Can I Buy a Home Without Social Security (SSN)?
Yes, you can buy a house, condominium, townhouse, or apartment without SSN. You cannot use an ITIN loan to finance an investment property. FHA doesn't offer any loans for no-citizens. If you're looking to take out a loan but don't have a Social Security Number (SSN), you still have options. You can apply for an Individual Taxpayer Identification Number (ITIN) loan. An ITIN loan is a type of loan available to people who don't have an SSN. To qualify for an ITIN loan, you must have an ITIN and meet the lending criteria of the lender. There are many benefits to taking out an ITIN loan. Firstly, it can help you build your credit history. Secondly, it can help you access loans that you wouldn't otherwise be able to get. And finally, it can give you the financial flexibility you need to reach your goals. ITIN is used in lieu of Social Security for identification purposes. However, these loans require documentation and information to determine a homebuyer's eligibility to pay back the loan. Based on a lender guidelines documentation needed will vary based on a homebuyer's circumstances. One of our specialized loan officer in ITIN loans can advise on what is needed to qualify for this loan type.
Who Can Take Advantage of an ITIN Loan?
An alien living in the United States who is not qualified for an SSN has paid taxes and worked in the same industry or field for at least two years. Regardless of whether a borrower has an SSN, all lenders expect two years of earnings doing the same type of business. They do not have to have worked in the same employment; if they are self-employed, it must be the same type of work or line of business. Lenders seek consistency.
Non-resident aliens who are not qualified for a Social Security number and are filing a tax return
A U.S. citizen or resident alien's dependent or spouse
A dependent of a non-resident foreign visa holder's spouse
Advantages and Disadvantages of an ITIN Loan
Advantages
There are many benefits to taking out an ITIN loan. One of the biggest benefits is that it can help you establish credit in the United States. This can be helpful if you plan on staying in the country for an extended period of time and want to build a good credit history. Another benefit of an ITIN loan is that it can help you get access to lower interest rates. This can save you a lot of money over the life of your loan. Another thing to keep in mind is that not all lenders offer ITIN loans. So if you're having trouble finding a lender, just call us and we will help you to find a lender in your particular state.
You don't have to be an American citizen or a green card holder to use it to acquire a loan.
Online loan applications are available. Proof of identity, confirmation of consistent income (two years in the same job or line of business), and proof that you file your annual tax return are all required.
It is less expensive than obtaining a "hard money" loan.
Disadvantages
There are some things to watch out for with ITIN loans. One is that they often have higher interest rates than traditional loans. That's because lenders see them as being riskier. So if you're thinking about taking out an ITIN loan, make sure you compare interest rates from different lenders to make sure you're getting the best deal.
 There are significant interest rates when taking out a Tax-ID loan with an individual tax identification number.
ITIN rates are often slightly higher than traditional mortgage rates.
ITIN denials are common owing to insufficient identification. You must supply correct identification paperwork when applying for an ITIN number.
Most banks do not allow ITIN holders to take out a Tax-ID loan.
How Do I Get an ITIN Loan?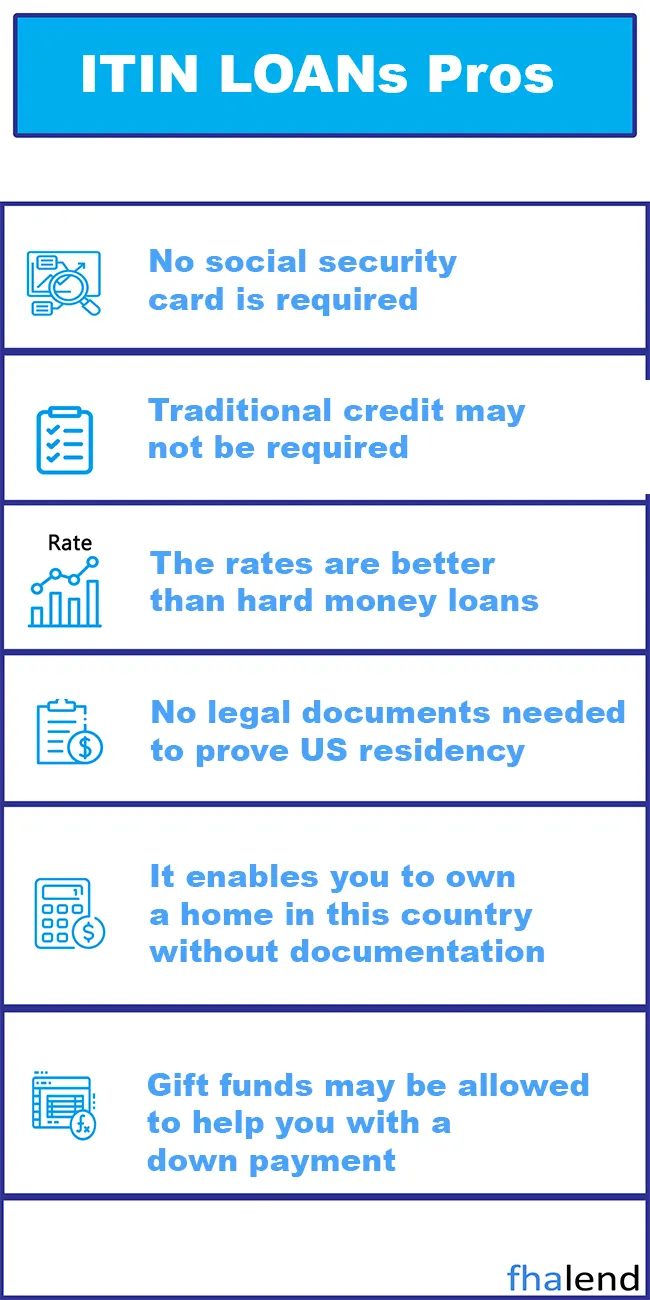 You'll need to know how to apply for your Taxpayer Identification Number to get your dream home (ITIN). We've broken down each step you'll need to complete to receive your ITIN to help you along the way.
You must put down at least 15% of the purchase price.
 You must file tax returns for the last two years.
 A credit score of 600 is recommended but not required. You can also apply for an ITIN without a credit score.
Pay stubs from the previous 30 days must be supplied as proof of employment.
 Some lenders will let you have a debt-to-income ratio as high as 55%.
ITIN Loan Requirements For People Without U.S. Citizenship
If you are thinking about taking out an ITIN loan, there are a few things to keep in mind. First, make sure that you understand the terms and conditions of the loan. Second, be aware of the fees associated with the loan. And third, make sure that you have a plan for how you will repay the loan. By following these tips, you can ensure that you get the most out of your ITIN loan and avoid any problems down the road.
In order to qualify for an ITIN loan, you must have an Individual Taxpayer Identification Number (ITIN). An ITIN is a nine-digit number issued by the IRS to people who are required to file a tax return but don't have a Social Security Number (SSN). To apply for an ITIN, you must complete and submit IRS Form W-7. Once you have your ITIN, you can apply for an ITIN loan at any lender that offers them. When applying for an ITIN loan, you'll need to provide the following information:
Your full name and contact information
Your date of birth
Proof of identity (e.g., passport, driver's license)
Downpayment required from 10%-20% depends on an ITIN lender
2 years of Tax Returns
Proof of income: the last 2 years of steady employment (you might qualify with employment gaps if not more than 6 months)
Options for purchase and refinancing are available.
Only manual underwriting is available – each file is reviewed by a live person who makes an informed decision.
A valid ID must be held by at least one borrower, a passport, ITIN card (Your ITIN number) or Driver's license card
Proof of credit, if you don't have a credit history then you need to provide proof of bills paid on time.
2 months (60 days) of recent bank statements Some lenders will require 6 months of bank statements.
3 Easy Steps to Getting an ITIN Home Loan
Follow these simple steps if you're thinking about getting a personal loan for an ITIN house loan.
Apply – Please provide all essential documentation and your best application.
Accept – If your application fulfills the qualifying requirements, the lender will contact you to discuss it. If necessary, provide further details if you accept the loan offer, and sign and return the note.
Repay – Establish a payback plan. To assist you in paying on time every month, you can set up an autopay method online.
What Types of Properties are Eligible for ITIN Loans?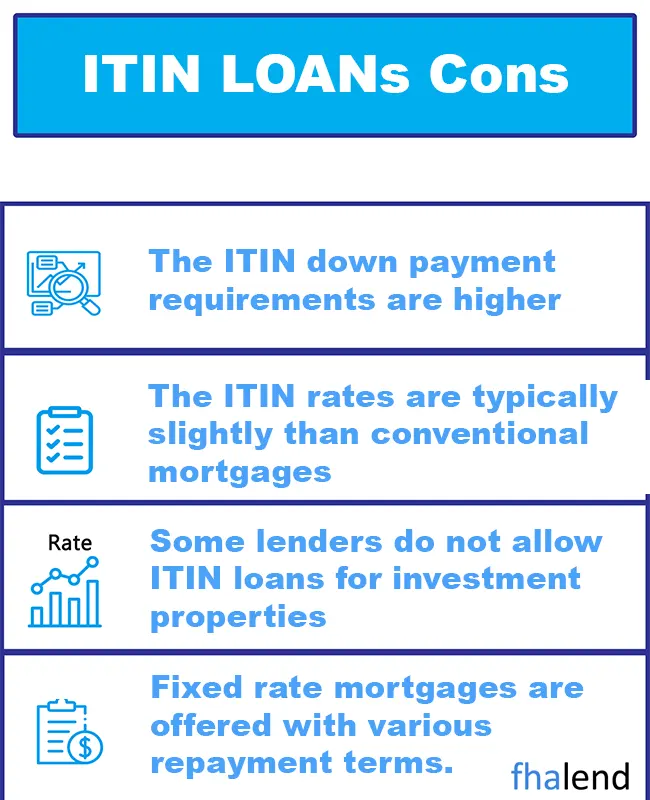 The following is a list of ITIN-friendly residences that is not exhaustive but will give you an idea of the properties eligible for ITIN mortgage loans.
Detached single-family home
Townhouse
Condominium
Residential properties with 2-4 unit
When Applying for ITIN Loan, Keep in mind the following:
Owner-occupied properties only, 30-year fixed rate.
Many lending companies in the neighborhood require you to demonstrate financial credibility to ensure that you will be dependable and trustworthy in making your loan payments.
Where To Find ITIN Lenders
The best places to find ITIN Loans are local banks you have a bank account. In most cases, they require you to put down 20% and you need to be sourced money in your bank account for at least 60 days as well as some reserves. Only "portfolio lenders" offer these types of loans. Fannie Mae or Freddie Mac don't back these types of loans on the secondary market and don't insure them so they are at higher risk for lenders.  There are a few different places you can look for ITIN lenders. Here are some of the best options:
Online lenders

There are a number of online lenders that offer ITIN loans. Some of the best options include Avant, UpStart, and FHA Lend – Yes we do these as well, we have a team of loan officers who specialize in ITIN loans.

Local banks and credit unions

Many local banks and credit unions offer ITIN loans. To find one in your area, you can search online or ask around for recommendations.
Community development financial institutions (CDFIs) CDFIs are organizations that provide financing to underserved communities. They typically offer low-interest loans with flexible repayment terms. To find a CDFI in your area, you can check out this list from the Opportunity Finance Network.