First-Time Homebuyers With Bad Credit Mortgage Approval
First-time homebuyers with bad credit can qualify for a mortgage loan approval. If you are a first-time homebuyer, you need to be aware and research the home purchase and mortgage loan application process. Before you go out shopping for a home or contact real estate agents, you need to consult with a mortgage loan originator. A loan officer will help borrowers qualify for a loan program. The loan officer will go over the borrower's credit, income, and assets and see what amount they qualify for. First-time home buyers with bad credit and who do not quite qualify yet, the mortgage loan officer can help them get qualified for a home loan.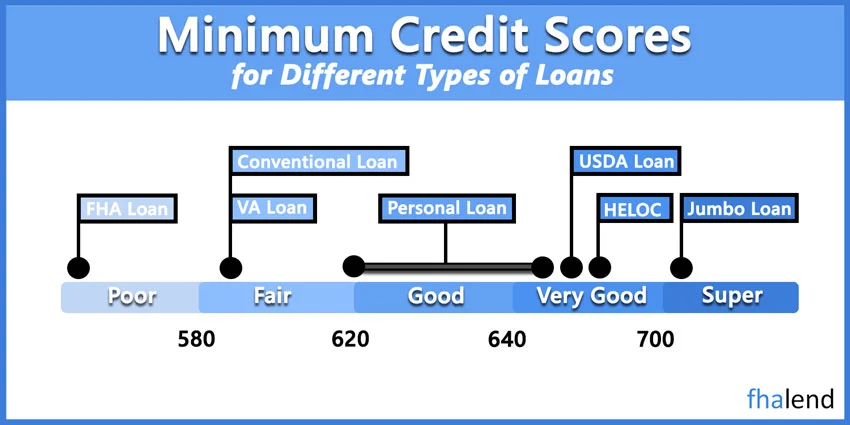 First-time homebuyers with bad credit need to get educated on the types of mortgage loan programs that are available and which mortgage loan program is best suited to their needs. Types of mortgage loan programs include FHA, VA, USDA, Portfolio Loans, Jumbo, Conventional, or Non-QM Loans.
Getting Qualified and Pre-Approved For A Mortgage
Once you have set your mind that you want to be a homeowner, you should start the mortgage application process as soon as possible. There are times when you think that you are a sure bet in getting a mortgage loan approval. A mortgage loan originator can be any first-time home buyer with less than perfect credit, high debt to income ratios, lack of down payment and/or closing costs, collection accounts they do not know about, or most commonly, errors on the credit report. All of these items take time to take care of. The sooner you get qualified the better situation you will be in when the right home steers your way and you need to make a purchase offer.
Pre-Qualified Versus Being Pre-Approved For First-Time Homebuyers With Bad Credit
Your first step as mentioned above is to get pre-qualified and pre-approved. Once a mortgage loan originator deems a first-time home buyer qualified and pre-approved and has reviewed the mortgage loan applications, credit report, credit scores, credit history, and an automated approval per Automated Underwriting System, the buyer will have the green light to make a real estate purchase offer on a home. There is no deadline date for pre-approval. As long as the first-time homebuyer is employed and is not late on monthly payments, the pre-approval should be good indefinitely unless the borrower's income changes.
Shopping For Homes With Pre-Approval Letter
Take time shopping for homes. Many times the right home will come up. Buyers should never make a purchase offer without having to go through the pre-qualification and pre-approval process. The mortgage loan originator will give you a figure on how much house you can afford.  Just because you are qualified for a certain amount of mortgage loan amount, you need to make sure that the monthly mortgage payments are affordable.
Can I Afford My Monthly Payment On My New Home Purchase?
There are many advantages of being a homeowner versus being a renter, especially the appreciation potential.  Real estate prices are still low after the 2008 real estate and mortgage meltdown and there are many properties where the upside appreciation potential is a true given and a no-brainer.  Many homes are listed and selling below construction and re-build costs which will eventually appreciate.  Everyone likes a nice home with as many amenities as possible. You need to realize that as a first-time home buyer and new homeowner, there will be a lot more expenses in being a homeowner than being a renter. 
How Much Does It Cost Me For My House Payments And Other Costs?
Besides your principal, interest, taxes, and insurance ( PITI ), you will have added monthly expenses in being a homeowner.  Water, scavenger, repairs, maintenance, landscaping, and other fees associated with maintaining your new home will occur, and sometimes high ticket repairs like HVAC repairs and repairing appliances can occur without notice and these repairs can be quite costly. 
How Much House Can I Afford?
It is recommended that you do not buy more houses than you can afford and just because you qualify for a large mortgage loan amount does not mean that you can afford that mortgage amount.  Mortgage lenders will not count your personal expenses such as entertainment, child care, schooling, and other expenses that you have.  When a mortgage lender gives you the maximum amount you qualify for and your monthly payment, review it carefully always keeping in mind reserves for unexpected repairs.
Down Payment And Closing Costs For First-Time Home Buyer With Bad Credit
Many potential first-time homebuyers do not realize that they can actually afford to be a homeowner and that a huge down payment is not needed. I spoke with a first-time home buyer just recently who told me she was not ready to purchase a home. This is because she only had a 10% down payment. She thought that she needed a 20% down payment. That is so not true.
Most homebuyers do not have a 20% down payment to put down on a home purchase. Borrowers can qualify for a conventional loan with a 3.0% down payment, FHA with a 3.5% down payment. USDA  and VA loans do not require any money down. As for closing costs, home buyers do not need to worry about that because they can get a seller's concession or a lender credit to cover some, most, or all of their home purchase closing costs.
 What Are Closing Costs?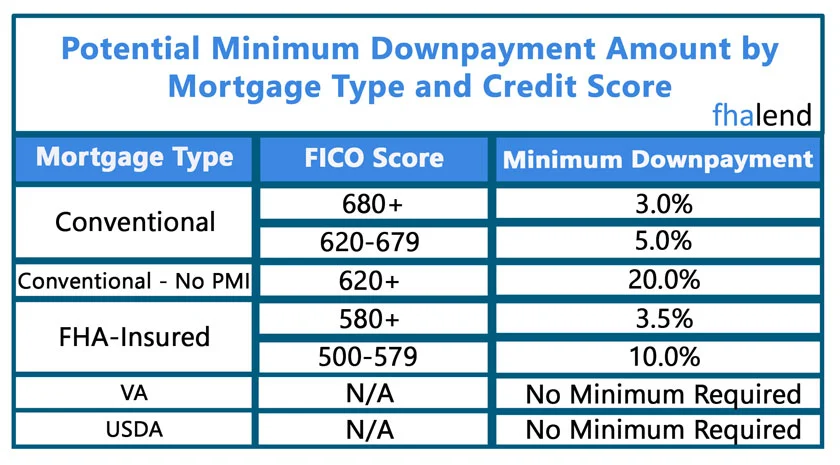 Every home purchase mortgage loan will have closing costs which are costs and fees associated with the home purchase and mortgage loan. Examples of closing costs include title charges, attorneys fees, one year's worth of homeowners insurance premium, recording fees, and other fees and costs Normally, as a right-hand rule, 2% of the purchase price is generally the closing costs. But your mortgage loan originator will get you a more accurate figure depending on where the property is located and what the third-party charges are for that area.
Get Pre-Approved Today For First-Time Homebuyers With Bad Credit
If you are a first-time homebuyer or veteran home buyer and need pre-approval, click on GET PRE-APPROVED TODAY and complete the 4-page online mortgage application.  I will get alerted via email and will contact you so we can get you pre-approved. 
First-Time Home Buyers With Bad Credit Guidelines and Requirements
First-Time Home Buyers Mortgage Guidelines depend on the individual loan program the borrower applies. The main concern most first-time homebuyers have is the down payment and closing costs. The down payment on a home purchase is fixed. HUD requires a 3.5% down payment on FHA loans. Fannie Mae and Freddie Mac require a 3% down payment on conventional loans. A 5% down payment is mandated on seasoned home buyers on conventional loans. VA and USDA offer 100% financing. Therefore, there is no down payment requirement on USDA and VA Loans. Non-QM and alternative financing loans require a 10% to 30% down payment.
Closing Costs on Purchase and Refinance Transactions
All home purchase and refinance loan transactions have closing costs. Most of our purchase borrowers do not have to worry about closing costs. Closing costs can be covered by the seller's concessions and/or lender credit.
We will cover the following topics in this article:
Down payment requirement
Closing costs on purchase and refinance loans
Agency guidelines versus lender overlays
Conventional loans
Government loans
First-time home buyer tips
First-Time Homebuyers With Bad Credit Guidelines: Lender Overlays Versus Agency Mortgage Guidelines 
There are various mortgage programs for first-time homebuyers with bad credit. First-Time Home Buyers Mortgage Guidelines depend on individual loan programs. Borrowers need to realize that not all lenders have the same guidelines on FHA, VA, USDA, and Conventional Loans. Just because a borrower does not qualify for FHA Loan at a bank does not mean they cannot qualify for an FHA loan with a different lender.
All lenders need to meet HUD Guidelines on FHA Loans. However, lenders can have higher lending guidelines than agency minimum guidelines. The additional guidelines required by lenders are called lender overlays. FHA Lend Mortgage is one of the very few five-star national lenders with no lender overlays on government and conventional loans.
First-Time Homebuyers With Bad Credit Guidelines On Down Payment Requirements
Most first-time homebuyers can easily afford their proposed monthly home mortgage payment. However, the issue most first-time homebuyers have is coming up with down payment and closing costs. First-time homebuyers On Down Payment Varies Dependent On The Loan Program. HUD offers a 3.5% down payment for borrowers with at least a 580 FICO Score.
Borrowers with under 580 credit scores down to 500 FICO can qualify for FHA Loans with a 10% down payment. Need to get approve/eligible per automated underwriting system. Borrowers who cannot get an approve/eligible but get a refer/eligible can be downgraded on FHA and VA Loans. HUD guidelines are the easiest and most lax when it comes to getting an automated underwriting system with bad credit and high DTI.
Conventional Loans
Conventional loans are the most popular loan program in the United States. Fannie Mae and Freddie Mac set the standards on conventional loans.
First-Time Homebuyers Mortgage Guidelines On Freddie Mac Home Possible
Freddie Mac's Home Possible has a 3% down payment mortgage program. Freddie Mac Home Possible loan program was created. It was launched to help first-time home buyers. Home Possible is also for move-up home buyers, and retired home buyers. 1% down payment on single-family homes. 5% down payment on 2 to 4 unit multi-family owner-occupant homes. Sellers can contribute up to 3% in sellers' concessions for home buyers closing costs. Freddie Mac Home Possible has a maximum income limit by borrowers. Borrowers must meet certain income limits with the Home Possible Mortgage program.
The Income and Property Eligibility Tool can be used to determine if borrowers meet maximum income eligibility requirements.
First-Time Homebuyers With Bad Credit: Freddie Mac Home One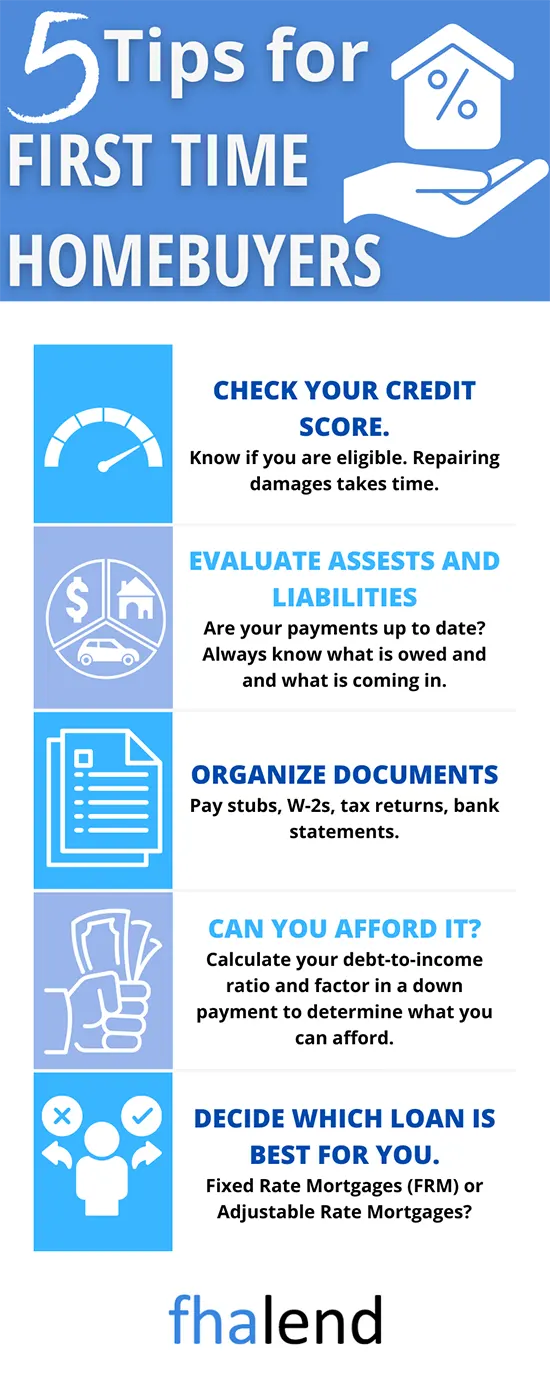 Freddie Mac's Home One Mortgage Program requires a 3% down payment program. Freddie Mac's Home One Mortgage is for first-time homebuyers. It does not have income limits or geographic area restrictions.
HomeReady Conventional Loans
The HomeReady Mortgage requires a 3% down payment:
Fannie Mae's HomeReady program requires a 3% down payment loan program
This is for seasoned and first-time home buyers
Here is the link to Fannie Mae HomeReady Eligibility Tool:
HomeReady's Income Eligibility Lookup Tool
Government Loans 
Private lenders originate and fund government-backed loans at competitive rates and zero to low down payments. Government loans are partially guaranteed and insured by a government agency. There are three types of government loans: FHA, VA, USDA. Government loans are for owner-occupant primary residence loans only. Second homes and investment properties are not eligible for government loans.
FHA Loans For Bad Credit
FHA Loans is the most popular loan program in the United States.
3.5% down payment is required for borrowers with at least 580 credit scores
Borrowers with under 580 FICO and down to 500 credit scores require 10% down payment on a home purchase
Sellers contribute up to a  maximum of 6% sellers' concessions for homebuyer's closing costs.
VA Loans
Lenders finance 100% LTV on VA loans:
VA does not require a minimum credit score requirement
There is no maximum debt-to-income ratio requirements
VA allows up to 4% of sellers' concessions.
USDA Loans
Like VA Loans, USDA does not require any down payment on USDA Loans and offers 100% financing. USDA allows up to 6% sellers concessions by home sellers.
First-Time Home Buyer Tips
Reserves help homeowners in an event of an emergency. You do not want to have zero money and become a homeowner. There are things homeowners need to purchase. Landscaping tools and yard machinery such as a lawnmower are often necessary and are not cheap. New homeowners may need new furniture and blinds throughout the house. Start saving for a down payment. Applying for new credit during the mortgage process can cause loan denial. Quitting your job and/or changing jobs can cause a loan denial or delay in closing. Avoid any high ticket purchases such as buying a new car or new furniture.
To qualify for a mortgage with a lender with no lender overlays, please contact us at FHA Lend Mortgage if you have any questions at 888-900-1020. Or text us for a faster response. You can also email us at [email protected]. The team at FHA Lend Mortgage is available 7 days a week, evenings, weekends, and holidays.