Top 15 Must-Know Open House Safety Tips to Secure Your Home
You'll be surprised by how many people will show up and go through your house during an open house (sometimes 30+ Yikes!!). Selling a property can be an exciting and also stressful experience. With so many things to wrap up to get your home ready to sell, there's a long list of safety things that need to be taken care of.
It's critical for you as a homeowner to take precautions while conducting your own open house with or without the assistance of a real estate agent. You probably don't let random people walk through your house checking out bedrooms and opening refrigerator doors on a Tuesday, right? When you decide to sell your home, allowing strangers inside is an important aspect of selling your property.
As a result, ensuring your own safety while allowing potential purchasers direct access to your property is critical. The way you live in a house is not the same as how you exhibit it to a real estate agent. There are certain security measures that you should certainly follow. When selling your home, there are a few things you should know.
Here are the top fifteen pieces of advice from real estate professionals and safety experts to keep you, your property, and your valuables safe while showing it. Take these below precautions and read about our top open house safety tips to secure your home to ensure that you're safe:
1. Use Security Cameras

A thief may be able to get away with your valuables if he or she breaks into your home during an open house. It may be tough for you to watch everyone at once while they're in the home if it gets a lot of visitors at once.
Consider installing security cameras at the main entrance, in high traffic areas, and the common spaces of your home. You might also wish to put cameras in areas where you store valuable items. Should anything untoward happen it will be good to have footage and timestamps of the visitors in your home.
As a homeowner, make plans in advance to help safeguard your most valuable assets and medications by hiding them in an inconspicuous location, storing them in a safe that cannot be removed from the home (such as bolted to the floor or installed in a wall), or simply taking them off-premises during the open house hours.
2. Ask Realtor to Co-List With a Broker or Bring a Friend

It is essential that you hire a professional to assist you with your open house for your own safety and the protection of your property. Instead, make plans to have someone there to help you out. If you're using a real estate agent, see if they can bring along an assistant who can help keep track of people and ensure that everyone who comes in signs in.
The good idea is to host the open house with a co-listing broker (you might need to split your commission with him/her) or a mortgage broker who will advise or pre-approve potential clients during the open house for an FHA loan, Conventional loan, or any other NON-QM financing.
There are also benefits to having someone else with you during the open house, such as keeping visitors from being left alone in the home. This is a simple precaution that can protect both people and belongings from theft, especially in multilevel residences where all floors should be covered.

3. Hide All of Your Valuables, Jewelry, or Antique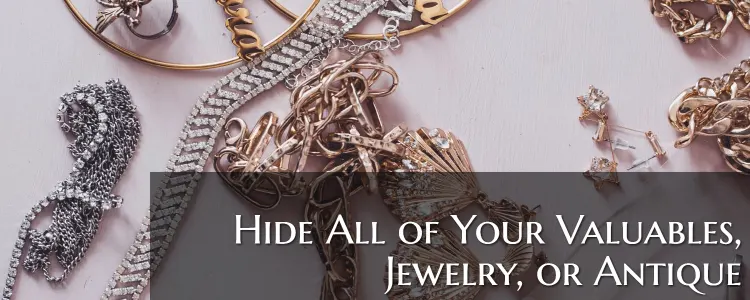 An open house may be one of the best times for a thief to steal your valuables. It might be difficult for you to keep an eye on everyone at once if your open house attracts a large number of visitors at once. Jewelry and antique are two things you should particularly worry about safeguarding.
Even a trustworthy buyer might feel as though they're stealing an item on the spur of the moment. Have a chat with the vendor about removing anything of worth, such as jewelry, electronics, drugs, and firearms.
Hiding your most valued belongings as a homeowner can help you protect them from prying eyes and curious visitors during the hours of an open house by hiding them in an inconspicuous location, storing them in a safe that cannot be removed from the home (like bolted to the floor or installed in a wall), or taking them off-premises during those hours. Don't hide anything in your top dresser drawer (a popular target for robbers).
Take any valuables, fragile items, or important documents out of your home and store them in a secure storage facility. Also stash away any drugs, credit cards, computers, and other papers that may contain personal information. And eliminate anything that might cause you damage.
Many well-known objects may be utilized as weapons from a security perspective. A lovely knife set might look fantastic for house staging. However, it's probably not a good idea to leave it out for showings.
4. Ask Neighbors For Help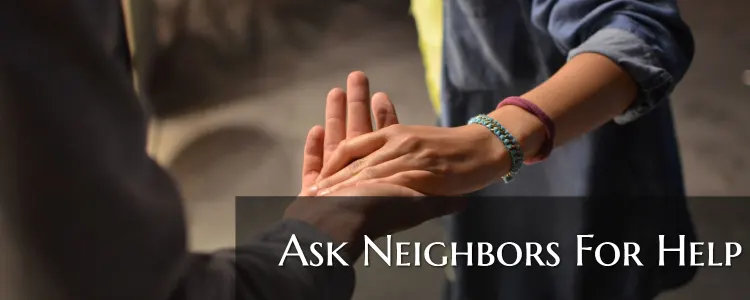 Asking your neighbors to keep an eye on your home if they are retired or live close by, or if a stay-at-home parent resides in the neighborhood, is also a good open house safety suggestion. Your neighbors may come to your open house as potential buyers and keep an eye out for those who show genuine interest. They can assist protect your home during an open house by reporting any suspected visitors to the realtors.
5. Demand Entry Rules

One of the greatest things you can do to secure your house while it is open for people is to establish entrance rules. You may talk with your realtor ahead of time and request that all visitors present photo identification in order to access, as well as provide the agent your usual name and phone number, which will provide additional pause for potential thieves or scouts who want to case the home before returning later.
As a consequence of this open house safety tip, you'll be better equipped to figure out how many people enter your property and how to follow them if there's been a theft. Some borrowers request from a realtor shows their property only to pre-approved clients for a mortgage (the one who qualifies for obtaining a loan), this way they can limit the number of people not committed and not able to afford the house they are seeing.
6. Host an Open House During the Day

It's also crucial to have an open house while the sun is out. If your agent needs to do it after dark, make sure your home is well-lit and all of your curtains or blinds are drawn.
Most realtors host an open house on Saturdays or Sundays from 10am-12pm, 12-2pm or 2pm-4pm.
7. Take Your Pets Out

It's a good precaution to take your pets outside while showing your house or doing an open house. If your dog will harm or wound someone, you will be held accountable as the pet owner. The pets are a major liability you want to avoid when letting people into your place. You might consider letting your pets stay over with a friend or family member during the open house.
8. Verify That Your Property is Covered by Insurance

Even if you're already well prepared for an open house, you might not be safe from theft. As a result, you may get homeowner's insurance for damage, theft, and injury to the insured property by utilizing this proactive open house safety idea.
Make your property attractive to potential buyers and realtors. Turn on the lights before showings — whether they're during the day or at night — so that visitors can walk around the house without fear of being assaulted. Before showings, it's crucial to remove obvious weapons (such as guns) but also not-so-obvious ones (knives). For example, many homeowners may have a row of knives on their kitchen counter that should be removed for everyone's safety.
Do you know whether your insurance policy covers them against property damage and, if so, does it provide enough protection for their most valuable belongings in the event of an accident? It's a good idea to inquire with your insurance provider about whether you'll be protected if theft or other injuries occur in your home during an open house.
9. Hide Bills & Photos

Hide anything from mail left on your kitchen counter (which might include personal information and bank statements) to your IDs, passports or cash. Many real estate professionals recommend that family photos be removed during the staging process, removing images may also help safeguard your family's privacy.
10. Medicines Go Missing

During an open house, you'll need to carry your prescription drugs with you or keep them safe. Don't make it easy for open house visitors by providing access to your medications.
11. Hide Your Keys & Protect Your Passwords

Don't give out garage or door codes for showings. Instead, consider making a new code for showings that isn't the same as the one used by family members. Then alter the code on a regular basis. Have the listing agent program the property's electronic lockbox so that you are alerted as soon as it is opened. You'll be able to tell when someone is about to enter your property this way.
12. By Appointment only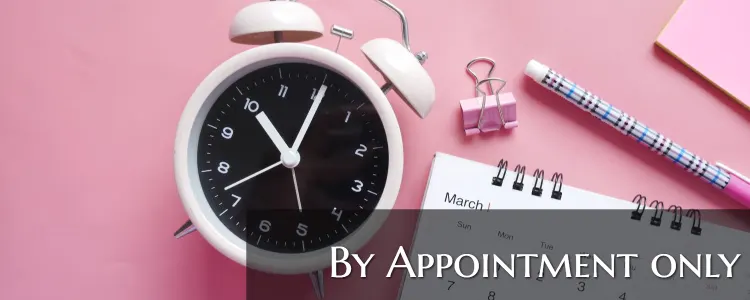 Make showings by appointment only in addition to open houses, which are held at a particular and limited time. "All appointments should be cleared and confirmed in cooperation with your agent," says the real estate website. When a seller or the listing agent makes an appointment request, their choice of scheduling software notifies them and the listing agent by text, email, or phone. Only active and in good standing agents may schedule showings, adding another layer of security for you.
13. Pack Up Your Kid's Toys

Pack up your children's toys and other valuables if you have any. If you expect visitors to bring their own children, provide them with a toy or two so they may keep the youngsters occupied and prevent making too much commotion in your house. To provide even more protection, it's also a good idea to erase any family photographs before an open house to safeguard your family's privacy.
14. Set Your Limits

If you're uncomfortable with a free-for-all open house, we propose scheduling back-to-back showings at 15- to 20-minute intervals. This is a less chaotic method of obtaining maximum exposure and allows a potential buyer to look around the property without being distracted. Also, you can ask your realtor to use a ShowingTime for easy scheduling and previewing visitors and listing buyer's agents. This app is available on phones and through MLS.
15. Be Present

Some realtors will demand that homeowners not be present during an open house, and this is understandable. However, if you believe it is in your best interest to stay at home, discuss it with your realtor. Choose a location that is out of the way of both your realtor's current tour and where guests are being shown. You may watch from here in peace and safety.
Bonus: Check Your House
Make sure your real estate broker or you double-check all windows and doors before conducting an open house.  After an open house, some robbers might unlock a bedroom window or door to gain entry later for a robbery. Furthermore, after they depart, some inconsiderate visitors may forget to turn off the tap in your toilet or kitchen. You can feel confident that your property is secure after an open house when you go through it yourself.
As a follow-up to the preceding suggestion, trust your instincts if something doesn't seem proper. You and your realtor have the right to refuse any showing request. Don't assume that everyone has departed and the house has been secured after coming home after a showing or an open house.
Check every room, as well as all door locks and windows, even on upper levels, while walking through the property. Call your realtor immediately if anything appears to be missing or harmed.